Schedule Of Events
Lewis and Clark National Historic Trail
Third Thursdays Program Series


Third Thursday Programs are held March through October at:
Lewis and Clark National Historic Trail Headquarters
Midwest Regional Office of the National Park Service
601 Riverfront Drive
Omaha, Nebraska 68102
402-661-1804
Programs are free to the public and offer a diverse array of topic areas related to the Lewis and Clark era in American History.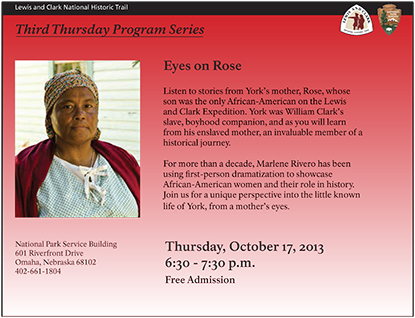 NPS
Re-scheduled due to the Government Shutdown

Thursday, November 14, 2013
6:30-7:30 PM
For more than a decade, Marlene Rivero has been using first-person dramatization to showcase African-American women and their role in history. Join us for a unique perspective into the little known life of York, from a mother's eyes.
*The content of this program is appropriate for families.
LAST Third Thursday Program for 2013
*November 14


Marlene Rivero

Listen to stories of York's mother, whose enslaved son was the only African-American on the Lewis and Clark Expedition.
*Programs appropriate for all ages. Familes are encouraged to attend.
Re-scheduled due to the Government Shutdown
Search for Events
Sorry, but there are no events between 03/01/2014 and 04/01/2014


Did You Know?

Seaman, Lewis's Newfoundland dog, joined the Expedition in Philadelphia when Lewis purchased him for $20. On the journey, Seaman served the Corps as hunter, sentry, and companion. Upon reaching the Pacific, Seaman became the first dog to travel the breadth of the North American continent.