Schedule Of Events
Lewis and Clark National Historic Trail
Third Thursdays Program Series


Third Thursday Programs are held March through October at:
Lewis and Clark National Historic Trail Headquarters
Midwest Regional Office of the National Park Service
601 Riverfront Drive
Omaha, Nebraska 68102
402-661-1804
Programs are free to the public and offer a diverse array of topic areas related to the Lewis and Clark era in American History.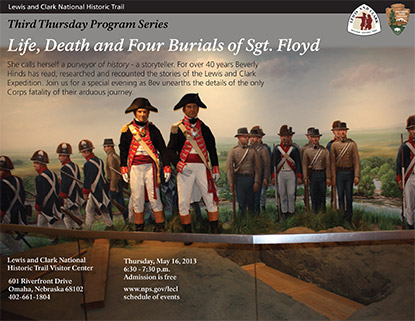 NPS
Thursday, May 16, 2013
6:30-7:30 PM
Life, Death and Four Burials of Sgt. Floyd
Beverly Hinds has read, researched and recounted the stories of the Lewis and Clark Expedition. Join us for a special evening as Bev unearths the details of the only Corps fatality of their arduous journey.
Upcoming Third Thursdays Programs 2013
*June 20

Daniel Slosberg
A living history performance in the role of Corps member, musician and boatman, Pierre Cruzatte.

July 18

Dr. Richard Fruehling
Medical Care on the Lewis and Clark Voyage of Discovery

August 15

Dr. Rudi Mitchell
Program Title TBD

September 19

Renae M. Hunt
Lewis and Clark: What was their value worth? Seaman, York, Sacagawea, and Pomp stories.

*October 17

Marlene Rivero

Listen to stories of York's mother, whose enslaved son was the only African-American on the Lewis and Clark Expedition.
*Programs appropriate for all ages. Familes are encouraged to attend.
Search for Events
Sorry, but there are no events between 05/21/2013 and 06/01/2013


Did You Know?

The Lewis and Clark Expedition was to record "the names of the nations & their numbers." Interactions with American Indians were, however, more than a record of names and numbers. They were matters of survival and success. Trade with tribes and the information they provided sustained the Expedition.