Lassen Volcanic National Park offers numerous activities to help you enjoy the outdoors. As you plan your trip to Lassen, keep in mind that activities are greatly dependent on the season. Select an outdoor activity below to learn more.
---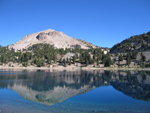 Auto-Touring
Length: 29 miles
Time: 1 hour to drive, non-stop
The Main Park Road provides spectacular views of the Cascade and High Sierra Mountains. Running from the southeast to the northwest of the park, the road has direct access to high altitude mountain lakes, active hydrothermal areas, numerous hiking trails, and grand views of Lassen Peak, Brokeoff Mountain, and the Devastated Area.

Bird-Watching
Over 83 species of birds nest in the Park. Raptors and other birds-of-prey are frequently sighted soaring above the rocky peaks between Brokeoff Mountain and Lassen Peak. The Manzanita Lake loop trail hosts many migratory birds and summer residents and is a favorite spot among bird watchers. The Cluster Lakes loop starting at Summit Lake is another trail popular among bird watchers. Download the Lassen Bird Field Checklist.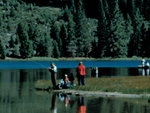 Fishing
Whether fishing from shore with the kids, or fly-fishing Manzanita Lake from a float-tube, Lassen Volcanic National Park has plenty of opportunities to land the big one. Trout have not been stocked in the park since the 1980s, but a healthy population of these fiesty fish still remain in many lakes and streams (though not in all of them). Manzanita Lake is famous for its large rainbow and brown trout, but keep in mind it is catch and release only and you must use single-hook, barbless, artificial lures only. Butte Lake and Horseshoe Lake both have healthy populations of trout. A valid California fishing license is required to fish in the park, and please keep the regulations below in mind before wetting your line in the park.
The following areas are closed to all fishing during the periods indicated:
Manzanita Creek above Manzanita Lake - closed all year
Manzanita Lake shore from the boat launch northwest to 150 feet west of the present inlet and 150 feet at the apex of a radius from the center of the inlet - closed all year
Butte Lake boat launch - closed all year
Juniper Lake boat launch - closed all year
* Download a list of park fishing regulations and information.