Hiking Kings Creek Falls Trail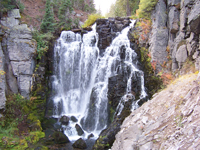 Start: Kings Creek Falls Trailhead
Round Trip Distance: 2.4 along creek
3.0 miles along horse trail
Round Trip Time: 2 hours
Terrain: gradual 700 foot descent along horse trail, steeper rockier descent via creek edge
Elevation: 7300 feet
Kings Creek Trail Renovation
The overlook renovation was completed in October 2015. The cascades section renovation includes reconstruction of the stone staircases that lead down to the overlook from the north loop junction. The cascade section of the trail is anticipated to reopen summer 2018.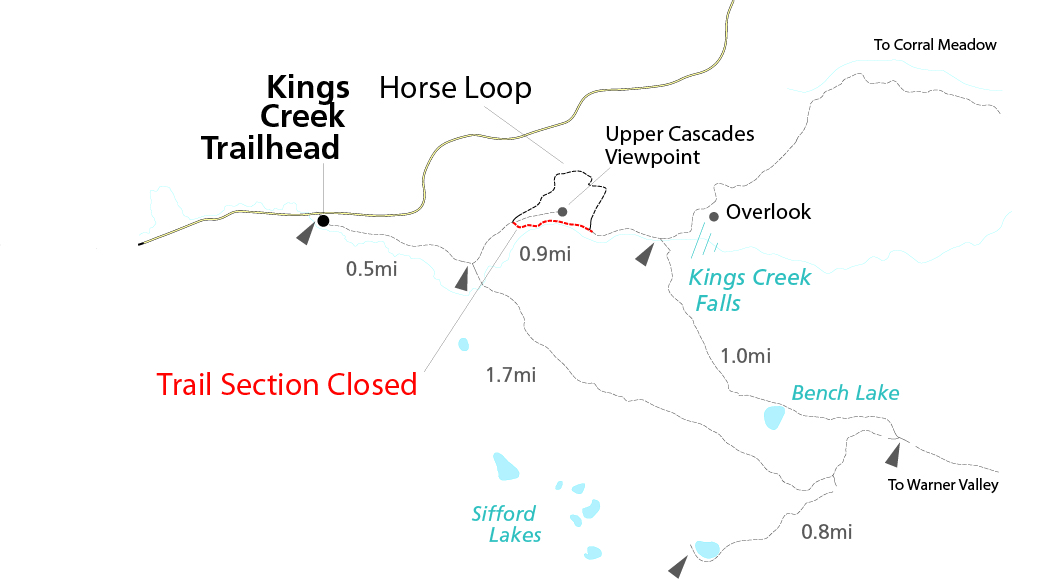 The Trail
There are two ways to reach the falls from the trailhead, via the horse trail or along the creek/cascades.
The cascades section of the trail is closed (see trail work above).
The trail along the creek is steep and rocky and should not be attempted if you aren't prepared to scramble across large rocks along the creek. The horse trail route is a slower and steadier descent, much easier on the knees. Hiking boots are recommended for both routes. The trail continues past the falls and can be used to access the Warner Valley via the Pacific Crest Trail.
The Scenery
The Kings Creek Falls trail leads to a large roaring waterfall draped in ferns and other green plants which thrive off the mist generated by the falls. Depending on the time of year you hike to the falls you may see Fawn Lilies or Satin-leaf Lupines in full bloom. As you get closer to the falls notice the deep bending of many of the large California Red Firs (see gallery below). Due to its elevation the Kings Creek Falls trail can be covered in 15 feet or more of snow in the winter, the immense weight of this snowpack bends the trees as they grow upwards towards the sun. As this snow melts the abundance of water in the area supports many difference species of plants and animals. The Kings Creek Trail is a great area to catch a glimpse of Lassen's various wildlife such as Clark's Nutcrackers and mule deer.