Road through the park is closed

Park highway (HWY 89) is currently being cleared of snow, debris, and rocks. Anticipated opening for Memorial Weekend. More »
Park highway under construction near Sulphur Works

Road crews are working to repair the road near Sulphur Works hydrothermal area. Road will be closed at the Kohm Yah-mah-nee Visitor Center during the week, and open to Sulphur Works on the weekends.
Hiking Bumpass Hell Trail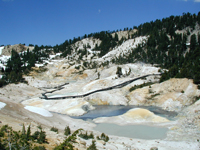 Start: Bumpass Hell parking lot
Round Trip Distance: 3 miles
Round Trip Time: 2 hours
Terrain: easy 300 foot descent
Elevation: 8000 feet
Bumpass Hell is the largest concentration of hydrothermal features in the park. Bumpass Hell was named after an early settler who severly burned a leg after falling into a boiling pool. The hydrothermal features can be reached today from a well-marked 1.5 mile trail that starts from a parking area opposite Lake Helen. A visit to Lassen is not complete without a stop at Bumpass Hell.

The Trail: The trail is quite easy, though the altitude (8,000 feet) can make the trail seem moderately difficult. Hiking boots are recommended as the trail crosses generally rocky land with some tree cover, and without much change in elevation until the 100 foot drop into the thermally active basin. The active area can be seen (and smelt!) from far away - a wide basin filled with various steaming pools and unusual multi-colored soils, stained orange, brown, yellow and green by sulphur and other minerals. Together with the occasional white snow patches, the (usually) deep blue sky and the aquamarine waters, the spectacle is extremely beautiful and colourful.
Because of the popularity of this trail, it is usually opened around July 1st. In heavy snow years deep snow on the trail can last past July 1st making the trail hazardous for use. On these years the opening has to be postponed. You can always call the visitor center for current trail conditions at 530-595-4480.
Bumpass Hell is the largest hydrothermal area in the park, and marks the principal area of upflow of steam and discharge from the Lassen hydrothermal system (see illustration in photo gallery below). The temperature of high-velocity steam jetting from Big Boiler, the largest fumarole in the park, has been measured as high as 322°F (161°C), making it one of the hottest fumaroles in the world. The steam heated waters are typically acidic and are not safe, even for bathing. Please stay on the trail and boardwalks for your safety.
Many thanks to John Crossley for contributions to this webpage.


Hot Water in Lassen Volcanic National Park

Fumaroles, Steaming Ground, and Boiling Mudpots: Download the 2.5MB PDF File Read More
Did You Know?

John Muir visited Lassen Volcanic National Park and wrote about his experience in the book Mountains of California.  "Miles of its flanks are reeking and bubbling with hot springs, many of them so boisterous and sulphurous they seem ever ready to become spouting geysers..."