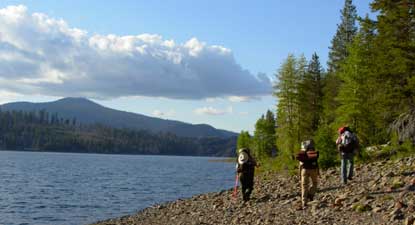 NPS Photo
Backpacking is an excellent way to enjoy the lesser known areas of the park. A wilderness camping permit is required for all overnight stays in the wilderness (any area outside of a developed campground). Please be sure to review the wilderness camping information and regulations before beginning any trip into the wilderness.

Park Loop Trails
The majority of backpacking trips occur in the east side of the park, where numerous trail loops provide opportunities for single night to week-long trips. View the loop trail distances chart and maps for more information on loop trails.
Hydrothermal Areas
While hydrothermal areas provide an wonderful insight into the innerworkings of the park, they are not a safe place to camp. Camping is prohibited within 1/4 mile of any hydrothermal feature. If you would like to visit a hydrothermal area on your trip, consider setting up camp nearby, and making a day trip to the area.