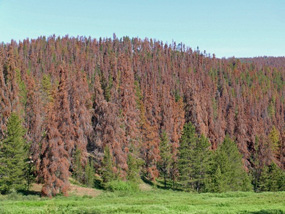 Jeffrey A. Hicke, University of Idaho
How Does Drought Affect Trees?
Drought leaves trees thirsty and stressed. With warmer, drier conditions, trees are more likely to become infected with insects. At Lassen, the native Jeffrey pine beetle bore into the trees and lay their eggs, eventually killing the tree. Park staff is currently implementing efforts to lessen the impact of pine beetles on susceptible old growth Jeffrey pines in the Manzanita Lake area. What will you do to protect Lassen's oldest trees?