Extend your students learning by using Lassen Volcanic National Park as a classroom.
Use our extensive catalog of curriculum-based activities for onsite and offsite learning. These activities use the resources of Lassen Volcanic National Park to supplement lessons in the classroom back home.
Visit without a ranger and use our activities to lead your own field trip. Use this webpage to explore our onsite educational resources and don't forget to submit your fee waiver two weeks prior to your visit.
Schedule an educational program with a ranger during your field trip. Click here for more information and to view our reservation schedule.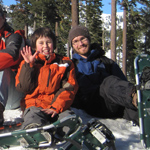 Winter Ecology Snowshoe Program for School Groups
As part of Lassen Volcanic National Park's Education Program the park is offering Ranger-led snowshoe walks and winter ecology programs for school groups, grades 3 - 8. This outstanding outdoor education program has been teaching winter ecology, snowshoe basics, and winter survival to school groups for over 20 years. Each program is tailored to meet the learning objectives of each class/grade, and meet the appropriate curriculum standards.
Programs are offered Wednesday - Friday, January 22 - April 5, 2014 at the Kohm Yah-mah-nee Visitor Center near the Southwest entrance of the park. Programs are generally 2-3 hours in length, however longer programs are available. Depending of snow conditions a Winter Survival and Snow Shelter program will also be offered in February and March.
The park supplies snowshoes for students and adults for use during the snowshoe walk program. There is no cost for the program and entrance fees will be waived. However, we do request a $1.00 donation per participant for maintenance and replacement of our snowshoes.
All programs are by reservation only. There are still open dates available for this winter/spring! For more information, or to make a reservation for you class call:
Steve Zachary, Education Specialist
(530) 595-6132

Onsite Educational Resources
Lily Pond - self-guided trail with brochures available at trailhead. (near Loomis Museum)
Waysides - interpretive wayside exhibits are found throughout the park
Loomis Museum - free entry, provides interpretive exhibits and park information; open seasonally, call 530-595-6140 (summer), 530-595-4480 (fall-spring) for more information.
Discovery Center - educational exhibits and science lab, open by reservation only. For more information call 530-595-6142 (summer), 530-595-6132 (fall - spring) (near Loomis Museum)
Kohm Yah-mah-nee Visitor Center - free entry, provides interpretive exhibits, park video and park information; call 530-595-4480 for more information.