Lake Roosevelt NRA Seeks Public Comments on Proposed Fee Increases

For the first time since 1995, the National Park Service is proposing fee increases at Lake Roosevelt NRA. Public comments will be accepted until October 31, 2014. More »
Visitor Centers and Museums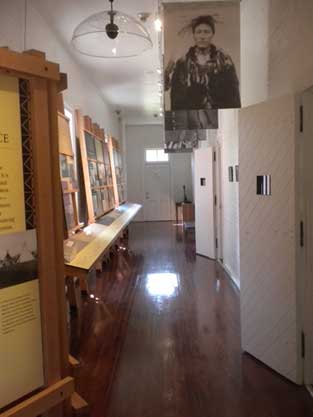 NPS/LARO
FORT SPOKANE VISITOR CENTER AND MUSEUM
Memorial Day - Labor Day: Daily 9:30 am - 5:00 pm
The rest of the year we are open upon request.

The visitor center and museum are the former guardhouse, located in the middle of the Fort grounds. Parking is available in designated areas only.
Address: 44150 District Office Lane N, Davenport, WA 99122
Phone: (509) 754-7893
Location: On State Route 25 near milepost 23.
School Programs: Programs are available with reservation.
Exhibits: Natural history and the Missoula floods displays in the lobby. The main hall and display rooms focus on daily life in the military, Indian boarding school, and Indian hospital periods. Developed with the assistance of the Confederated Tribes of the Colville Reservation and the Spokane Tribe of Indians.
Available Services: Travel information, guided tours, 10-minute interpretive film. Sales: annual boat launch permits, America the Beautiful: Senior and Access passes (formerly Golden Age and Access passes), books, and educational DVDs.
Did You Know?

A common rumor at Lake Roosevelt is that the National Park Service controls the lake level. This is not true. The lake level is controlled by Bureau of Reclamation computers that optimize lake levels for only five things: flood control, power production, irrigation, dam repairs, and salmon runs.