Lake Roosevelt NRA Seeks Public Comments on Proposed Fee Increases

For the first time since 1995, the National Park Service is proposing fee increases at Lake Roosevelt NRA. Public comments will be accepted until October 31, 2014. More »
Management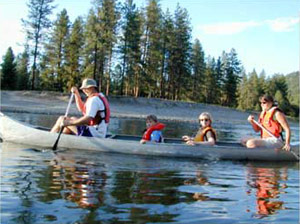 In 1946 the Secretary of the Interior, by his approval of an agreement between the Bureau of Reclamation, the Bureau of Indian Affairs, and the National Park Service, designated the National Park Service as the manager for the Coulee Dam National Recreation Area. The agreement noted that Lake Roosevelt and the adjacent lands "offered unusual opportunities through sound planning, development, and management for health, social, and economic gains for the people of the nation." The name of the area was changed in 1997 to Lake Roosevelt National Recreation Area.--Lake Roosevelt National Recreation Area General Management Plan.
To read more about the history of Lake Roosevelt click here:
Currents and Undercurrents: An Administrative History of Lake Roosevelt National Recreation Area



Did You Know?

Lake Roosevelt's sturgeon are 8 to 20 feet long. They are also at least 70 years old. In 1941, Grand Coulee Dam flooded the fast-moving waters they need to spawn. To help out the population, the state of Washington introduced new fish to the lake in 2006.