Campground Campfire Ban Lifted

Effective immediately, campfires are allowed in established fire rings in campgrounds and day-use areas throughout Lake Roosevelt National Recreation Area. Lakebed fires and other forms of open flame, like tiki torches, are still prohibited. More »
Management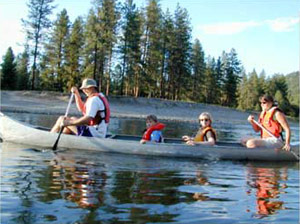 In 1946 the Secretary of the Interior, by his approval of an agreement between the Bureau of Reclamation, the Bureau of Indian Affairs, and the National Park Service, designated the National Park Service as the manager for the Coulee Dam National Recreation Area. The agreement noted that Lake Roosevelt and the adjacent lands "offered unusual opportunities through sound planning, development, and management for health, social, and economic gains for the people of the nation." The name of the area was changed in 1997 to Lake Roosevelt National Recreation Area.--Lake Roosevelt National Recreation Area General Management Plan.
To read more about the history of Lake Roosevelt click here:
Currents and Undercurrents: An Administrative History of Lake Roosevelt National Recreation Area



Did You Know?

Fire is a natural part of Lake Roosevelt's dry forest and desert environment. Park fire fighters, to protect nearby landowners, manage the forest by extinguishing any wildfire, as well as thin, pile up, and burn excess vegetation in winter. Prescribed fires may be lit to burn what is left.