Fire Restrictions Established at Lake Roosevelt National Recreation Area

In accordance with the 36 CFR §1.5(a)(1), Superintendent Dan Foster has established a restriction for campfires on the exposed lakebed. Campfires in park-provided fire grates at developed campgrounds are allowed. More »
Management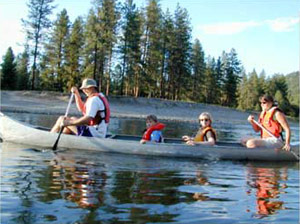 In 1946 the Secretary of the Interior, by his approval of an agreement between the Bureau of Reclamation, the Bureau of Indian Affairs, and the National Park Service, designated the National Park Service as the manager for the Coulee Dam National Recreation Area. The agreement noted that Lake Roosevelt and the adjacent lands "offered unusual opportunities through sound planning, development, and management for health, social, and economic gains for the people of the nation." The name of the area was changed in 1997 to Lake Roosevelt National Recreation Area.--Lake Roosevelt National Recreation Area General Management Plan.
To read more about the history of Lake Roosevelt click here:
Currents and Undercurrents: An Administrative History of Lake Roosevelt National Recreation Area



Did You Know?

When the Grand Coulee Dam was finished and the lake filled, 11 towns were submerged. Every structure was cleared or burned. Soon, the rising waters covered the forlorn concrete foundations with water and darkness. Some towns died, others were built above the new lake, replacing what was lost.