Management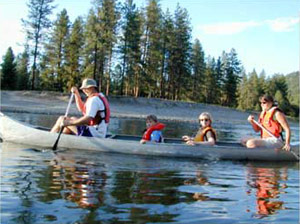 In 1946 the Secretary of the Interior, by his approval of an agreement between the Bureau of Reclamation, the Bureau of Indian Affairs, and the National Park Service, designated the National Park Service as the manager for the Coulee Dam National Recreation Area. The agreement noted that Lake Roosevelt and the adjacent lands "offered unusual opportunities through sound planning, development, and management for health, social, and economic gains for the people of the nation." The name of the area was changed in 1997 to Lake Roosevelt National Recreation Area.--Lake Roosevelt National Recreation Area General Management Plan.
To read more about the history of Lake Roosevelt click here:
Currents and Undercurrents: An Administrative History of Lake Roosevelt National Recreation Area



Did You Know?

A common rumor at Lake Roosevelt is that the National Park Service controls the lake level. This is not true. The lake level is controlled by Bureau of Reclamation computers that optimize lake levels for only five things: flood control, power production, irrigation, dam repairs, and salmon runs.