Landforms In the Sand: The Geology of Lake Roosevelt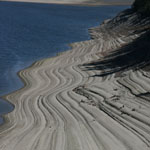 M. Shoemaker/NPS
Program Overview:
Discover the powerful effects of water and the amazing geologic forces that shaped the landscape in the Lake Roosevelt area. Explore the Ice Age Floods in a model your students create in the sand. This program features students creating a landscape complete with a flowing river and discovering what the force of water can do to a landscape as it gets flooded.
| | |
| --- | --- |
| Grade: | 3rd-12th |
| Chaperone Ratio: | 1:10 |
| Group Size: | Minimum: 10, Maximum: 60 |
| Program Length: | 1 hour |
| Program Time: | Variable |
| Program Dates: | September-October 2013 |
| Locations: | Spring Canyon, Keller Ferry, Porcupine Bay, Hunters, Kettle Falls |
Fill out our
reservation form
to arrange a program or
contact
our education specialist for more information.
Did You Know?

The pretty violet flowers of this wild hyacinth grows at Lake Roosevelt. An important food source, its small but sweet onion bulb is still popular. Covered by a fibrous netting called a corm net, excavated and carbon dated corm nets established that people lived at Kettle Falls 9,500 years ago.