Arizona Hot Spring

The springs around Lake Mead National Recreation Area provide a unique opportunity for our visitors to experience nature's version of a hot bath. Arizona Hot Spring is probably the most popular spring in the park and visited by thousands throughout the year.
Critical Information
During the summer months this is a
VERY HAZARDOUS
activity due to excessive heat. Please consider re-scheduling this hike during the cooler fall and winter months. For more on desert safety please visit our
SAFETY PAGE
.
Arizona Hot Spring is located in a dramatic slot canyon that joins the river just downstream of Ringbolt Rapids. The spring forms several pools that are located about 1,000 feet from the river, where the canyon walls are nearly vertical and about 6 to 9 feet apart. Directly at the source the spring discharges highly mineralized water at a rate of about 30 gallons per minute and a temperature of about 111 degrees Fahrenheit. The spring issues from fractures in Miocene-age volcanic rocks near the intersection of two faults.
White Rock Canyon is a strikingly beautiful volcanic area. There is a wide variety of desert plants to be found, including indigo bush, ground cherry, rush-milkweed, rabbit brush, Mormon tea, desert fir, cheesebush, globemallow, desert tobacco, desert trumpet, rock nettle, and rock daisy. Rocks encountered during the hike are primarily volcanic, including flow and tuff (ash) deposits, with some granite boulders washed down from Wilson Ridge.
Arizona Hot Spring hike is NOT ADVISED IN THE SUMMER. If you choose to go, take lots of water and watch out for rattlesnakes. Do not put your hands or feet on ledges, in bushes, or under or around rocks where you cannot see.
---
Learn more about
Hot Springs in our
Atlas of Lake Mead section
---
Trail Stats
For your safety, it is recommended you stay on established trails.

Length - 6 miles roundtrip

Time - 5 hours plus time to soak in hot springs

One-way elevation loss/gain - 800'

Rated - moderately strenuous
---
Directions to the Hot Spring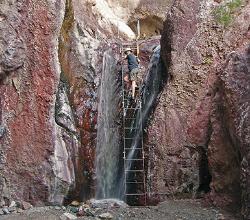 Hike down a spectacular volcanic canyon to the Colorado River below Hoover Dam and relax in a pleasant hot spring in a nearby side canyon.
From the Lake Mead Visitor Center, follow US Hwy 93 east 8.4 miles (4.2 miles past Hoover Dam). Watch for the sign to the trailhead. Park at the treailhead and walk down the hill and under the highway. Continue down wash to the river.
Follow this wash downhill to the river, then follow the river 1/4 mile south over the hill where you will find the hot springs up the side canyon. Warning: A 20' ladder must be climbed to reach the best hot springs.
This canyon gets its name from many huge white boulders that were carried down the canyon from Wilson Ridge by flash floods.
If you are coming from Kingman, Arizona, the trailhead is .2 miles before the mile marker 4.
Arizona Hot Spring
Arizona Hot Spring Lake Mead NRA
Although springs, especially hot springs, are safe and fun to relax in, there is a slight danger from a rare and lethal amoeba called Naegleria fowleri. From 2002 to 2011, the Centers for Disease Control recorded 33 cases, with a 98% death rate.
This is not to say you cannot enjoy the springs in Lake Mead, just take some simple precautions. The amoeba enters the body through the nose only, it will not harm you if swallowed. Plugging your nose when going underwater, or keeping your head above water will prevent any infection. This is rare, but please be careful.