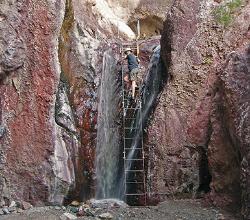 Hike down a spectacular volcanic canyon to the Colorado River below Hoover Dam and relax in a pleasant hot spring in a nearby side canyon.
From the Lake Mead Visitor Center, follow US Hwy 93 east 8.4 miles (4.2 miles past Hoover Dam). Watch for the sign to the trailhead. Park at the treailhead and walk down the hill and under the highway. Continue down wash to the river.
Follow this wash downhill to the river, then follow the river 1/4 mile south over the hill where you will find the hot springs up the side canyon. Warning: A 20' ladder must be climbed to reach the best hot springs.
This canyon gets its name from many huge white boulders that were carried down the canyon from Wilson Ridge by flash floods.
If you are coming from Kingman, Arizona, the trailhead is .2 miles before the mile marker 4.