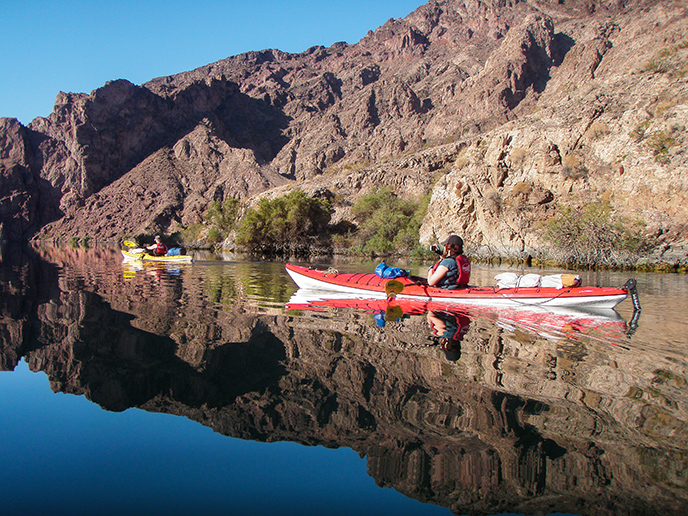 Izzy Collett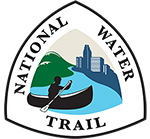 The Secretary of Interior Sally Jewell has designated a portion of the Lower Colorado River that flows through Lake Mead National Recreation Area as a National Water Trail.

Visitors can access the Black Canyon Water Trail through a guided tour at the base of the Hoover Dam or from Willow Beach, Arizona, or near an old mining town in Eldorado Canyon, Nevada.
As visitors travel down the 30-mile trail alongside wilderness and solitude, they can stop at sandy beaches, colorful caves, plentiful coves and active hot springs. Desert bighorn sheep and other wildlife are often seen on the cliffs along the river. There is also a great deal of history associated with the construction of and research connected to Hoover Dam including the sauna cave, gauging stations, catwalks, trails and building foundations.
"These trails provide an opportunity for families to get outside and explore some of our nation's most beautiful waterways, and by highlighting them as part of the National Water Trails System, more visitors will have the opportunity to visit and add value to their local economies," National Park Service Director Jonathan B. Jarvis said. "The National Water Trails System highlights the best of our nation's water trails that encourage recreation and stewardship."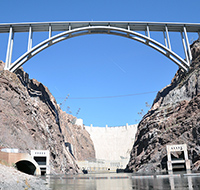 NPS
Hoover Dam
Launching at Hoover Dam is an exclusive experience provided by a limited number of vendors in Southern Nevada and Northern Arizona. Visitors are escorted to the launch site on a narrated bus ride into the Hoover Dam Security Zone. Before rafting or paddling down the water trail, guides describe the engineering marvel that is holding back up to 28.9 million acre feet of water in Lake Mead. Tours range from float trips near the dam to day trips to full exploration tours. Approved vendors for Hoover Dam access are listed below.

| | | |
| --- | --- | --- |
| Outfitter | Phone | Web |
| Adventure Glide | 702-506-2364 | www.adventure-glide.com |
| After Cool Outdoors | 602-692-5937 | www.aftercooloutdoors.com |
| Black Canyon River Adventures | 928-767-4747 | blackcanyonadventures.com |
| Boojum Institute | 951-763-4102 x231 | www.boojum.org |
| Boulder City River Riders | 702-219-9210 | www.bcriverriders.com |
| Desert Adventures | 702-293-5026 | www.kayaklasvegas.com |
| Desert River Kayak | 928-754-5320 | www.desertriveroutfitters.com |
| DetourVegas | 917-544-7568 | www.detourvegas.com |
| Epic Adventure Photography | 702-878-7334 | www.epicadventuresphotography.com |
| Evolution Expeditions Kayaking | 702-259-5292 | www.lasvegaskayaktours.com |
| Four Seasons Guides | 928-525-1552 | www.fsguides.com |
| Grand-Adventures.com | 702-989-5081 | www.grand-adventures.com |
| Jerkwater Canoe Company | 928-768-7753 | www.jerkwatercanoe.com |
| River Dogz | 702-901-1060 | |
| Sierra South | 760-376-3745 | www.kernriver.com |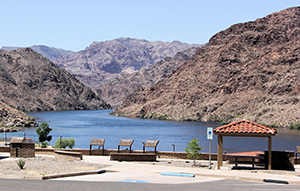 Alan O'Neill
Willow Beach
Located 14 miles south of Hoover Dam off of U.S. 93 on the Arizona side of the water trail, Willow Beach offers a variety of amenities, including a launch ramp and full-service marina with watercraft, canoe and kayak rentals; a campground and RV park; and a store and restaurant. The beach and fishing pier are also popular destinations. Whether hiking, rafting, boating or fishing, visitors at this part of the Black Canyon Water Trail enjoy sheer cliffs of multicolored rocks, sandy beaches and secluded coves.
NPS
Eldorado Canyon
The Black Canyon Water Trail ends at Eldorado Canyon, an area known for its mining history, which was active when Nevada achieved statehood in 1864. Steamboats would transport the ore from Eldorado Canyon along the Colorado River down to the Gulf of California. Mine tours are offered daily outside of the park boundaries near the community of Nelson, and vendors offer kayak, paddleboard and hiking tours within the park.
---
The Lower Colorado River Water Trail Alliance
was formed in 2012 to pursue the designation of a National Water Trail, promote the recreation experience, protect the water's natural beauty and resources, and engage the public in its stewardship. The alliance includes representatives from the National Park Service, Bureau of Reclamation, Outside Las Vegas Foundation, outfitters/local businesses, the Chamber of Commerce and outdoor enthusiasts.The Alliance's website can be seen at
www.blackcanyonwatertrail.org
Explore the entire National Water Trails System online at
www.nps.gov/watertrails
.