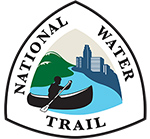 The Secretary of Interior Sally Jewell has designated a portion of the Lower Colorado River that flows through Lake Mead National Recreation Area as a National Water Trail.

Visitors can access the Black Canyon Water Trail through a guided tour at the base of the Hoover Dam or from Willow Beach, Arizona, or near an old mining town in Eldorado Canyon, Nevada.
As visitors travel down the 30-mile trail alongside wilderness and solitude, they can stop at sandy beaches, colorful caves, plentiful coves and active hot springs. Desert bighorn sheep and other wildlife are often seen on the cliffs along the river. There is also a great deal of history associated with the construction of and research connected to Hoover Dam including the sauna cave, gauging stations, catwalks, trails and building foundations.
"These trails provide an opportunity for families to get outside and explore some of our nation's most beautiful waterways, and by highlighting them as part of the National Water Trails System, more visitors will have the opportunity to visit and add value to their local economies," National Park Service Director Jonathan B. Jarvis said. "The National Water Trails System highlights the best of our nation's water trails that encourage recreation and stewardship."