Surface Geology of Lake Mohave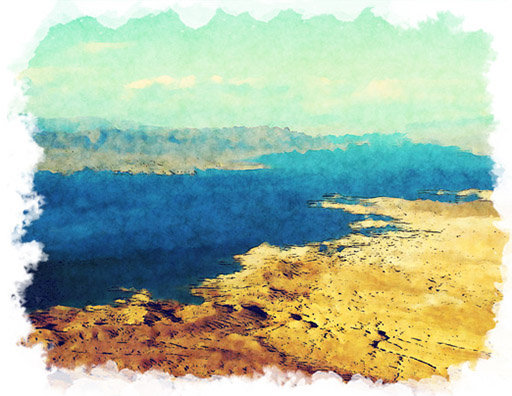 Lake Mohave was created with the completion of Davis Dam in 1953 and impoundment of the Colorado River below Hoover Dam. This region of the Colorado River Valley lies between the Black Mountains to the east and the Eldorado and Newberry Mountains to the west. Metamorphic and coarse-grained igneous rock make up most of the exposed bedrock of these mountains. The northern section of the reservoir is constrained by the steep volcanic walls of Black Canyon.
Below Black Canyon, Lake Mohave gradually widens with alluvial deposits bounding this section of the lake. Further south, Lake Mohave is constricted by a local protrusion of volcanic rock at Painted Canyon. The lake widens again to the south where it lies within a wider, more gently sloping alluvial basin, reaching its greatest width in the central part of this basin. Lake Mohave is constricted once again to the south with increasing slope of the alluvial basin and is bounded by the steep slopes of the Newberry Mountains to the west and alluvium to the east. Davis Dam, constructed within a narrow gorge cut into Precambrian igneous rock, marks the southern end of the lake.
Surface Geology
---
The floor of Lake Mohave is generally characterized by pre-impoundment features, including undulating sand deposits in the former river channel, rock outcrops along steep cliffs adjacent to the river channel, tree-lined floodplains adjacent to the river channel in the wider basins, and alluvial fans at the mouths of washes which fringe most of the central part of the lake. In contrast to Lake Mead, remarkably little sediment has accumulated in Lake Mohave since its impoundment in 1953. Virtually all of the sediment transported by the Colorado River has been trapped in Lake Mead or in other upstream reservoirs, such as Lake Powell.
The small amount of fine-grained sediment which has accumulated tends to occur in the deepest parts of the lake within sheltered areas along the edges of the drowned Colorado River channel. Other post-impoundment deposits include debris flows found at the mouths of washes probably associated with flash floods and landslides along the base of steep cliffs in the northern section of the lake which appear to be the result of cliff collapse. One notable debris flow at the mouth of Eldorado Canyon is the result of a large flash flood that moved through the wash in 1975.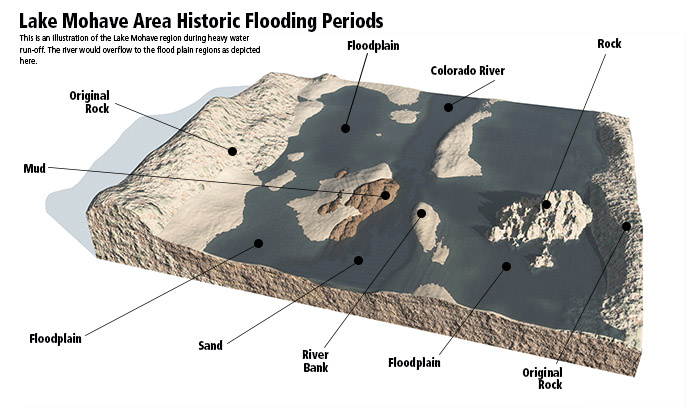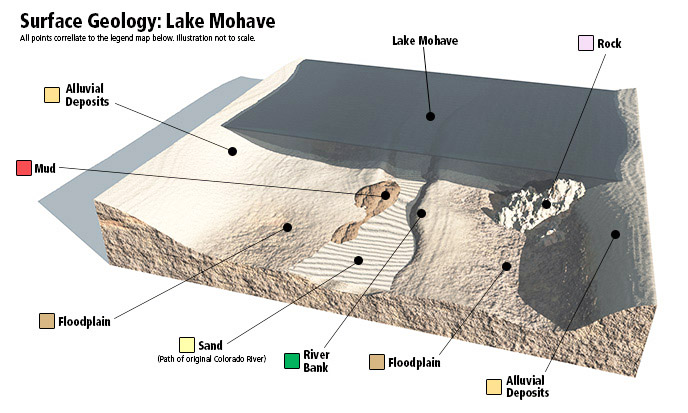 Illustrations: Anthony Ross



Lake Mohave Geophysical Survey 2002: GIS Data Release U.S. Geological Survey Open File Report 2004-1247
Reconnaissance Geology Between Lake Mead and Davis Dam Arizona-Nevada U. S. Geological Survey Professional Paper 374-E, p. E1-E51
Surficial Geology and Analysis of Post-Impoundment Sediment of Lake Mohave; Interpretation of Sidescan Sonar and Seismic-Reflection Data U.S. Geological Survey Open File Report 2004-1256
nal Park Service.