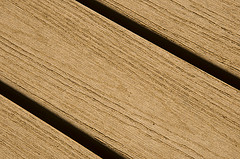 NPS Photo / Andrew S. Muñoz
Decking is made of a composite of rice hulls and recycled plastic and the exterior stucco is made of recycled tires. Use of low or no volatile organic compound materials, paints and adhesives will rid the building of the typical new building smell, improving the overall indoor air quality. Additionally, every piece of leftover material was tracked to reduce the amount of waste sent to landfills and ensure maximimum reuse or recycling.
The project's key earth-minded elements and commitments include the integration of the concessionaire's environmental management systems and a mix of new and existing programs:
Green Cleaning Program throughout the resort (currently in place)
Green Purchasing Program (currently in place)
Energy and Environmental Education Programs for boaters and community members (currently in place)
Extensive energy saving materials and systems, including high-performance insulated glass
High-efficient HVAC equipment and delivery systems
Extensive use of recycled and regionally extracted and/or manufactured materials, such as concrete, steel, drywall, metal studs, carpet, etc.
Finish materials, paints, adhesives, caulks and sealants that contain low or no volatile organic compounds to ensure healthy indoor air quality
Extensive natural daylight and views to the outdoors throughout, maximizing east/west orientation
Recycled and recyclable building and landscape materials
Prevention of night sky pollution
The structure is designed to last over 40 years without significant maintenance.