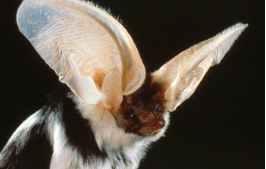 Bats have an undeserved reputation as undesirable creatures, largely due to the myth that all bats carry rabies and pose a danger to humans. In fact, bats are no more likely to contract rabies than any other mammal, and those that do usually do not live long enough to pass the disease onto other animals, except possibly another bat.
Bats are actually ecologically and economically very important to humans. Some species pollinate plants, others disperse plant seeds, and still others consume vast quantities of bothersome insects such as mosquitoes and agricultural pests. In one hour, a bat can eat 600 mosquito-sized insects.
In recent years, drastic reductions in bat populations have been documented worldwide. There are numerous reasons for these declines, including habitat destruction, pesticide use, deliberate extermination and disturbance by humans. A large effort is being made to conserve bat populations and to educate the public that bats are valuable animals worthy of conservation.
At Lake Mead NRA, ongoing studies, using sophisticated equipment, examine, track and record bats in our area. The animals are not injured and are released back into the wild. This information is used to better understand how humans and bats can help each other.
At Lake Mead NRA, one of the biggest threats to bats occurs when people enter abandoned underground mine workings. Many bats roost in these workings because they provide shelter from sunlight, predators and adverse weather conditions.