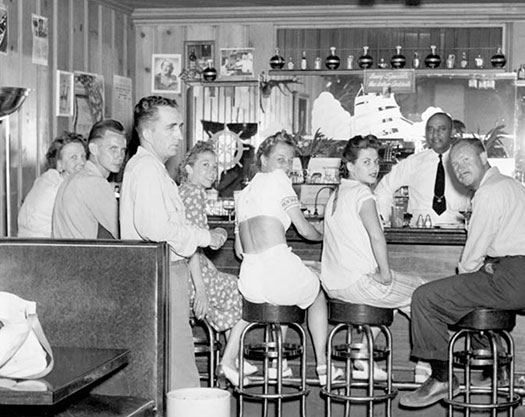 The facility was renamed Lake Mead Lodge in 1945, since the name better reflected its lakeside location and was easier to spell and pronounce than "Hualapai."
GCBDT was having financial problems because of the decline in tourism during World War II, and in 1948 they subcontracted operation of Lake Mead Lodge to Continental Hotel Systems. With the impending expiration of the initial 20-year contract to operate the Lodge, the NPS looked to have new requirements inserted into the new contract. These requirements were more than GCBDT wanted to undertake, and in 1954 Continental Hotel Systems took over management of the Lodge. The new operator constructed a large swimming pool, small wading pool, and a fourth lodge building to better serve the growing number of tourists visiting Lake Mead.
Tourism to Southern Nevada grew continually in the 1950s and 1960s and new hotels and other tourist facilities sprang up around the area. During this period Lake Mead continued to gain popularity, with over 2,000,000 visitors coming to Boulder Beach each year in the 1950s. To help meet the needs of exploding visitation at National Parks across the country, an initiative called Mission 66 funded new facilities throughout the National Park system. The goal was improving park facilities by the Agency's 50th birthday in 1966. Under this initiative, Lake Mead National Recreation Area built new boat ramps, campgrounds, picnic areas, ranger stations, a visitor center and employee housing. The Mission 66 era also saw new overnight accommodations built at Temple Bar and Echo Bay on Lake Mead, and Willow Beach, Cottonwood Cove and Katherine Landing on Lake Mohave.
The McCullough Corporation took over management of Lake Mead Lodge in 1961. McCullough also acquired management of the nearby Lake Mead Marina where they constructed the world's largest floating restaurant. Because of its close proximity to this fancy new floating restaurant, the restaurant and bar at Lake Mead Lodge were closed. Still, the combination of boat rentals, beach and overnight facilities ushered in the heyday of the Lake Mead Lodge, and it became a favored destination for Las Vegas celebrities such as Don Rickles, Andy Williams and Harry Belafonte, who regularly chartered boats from the marina.