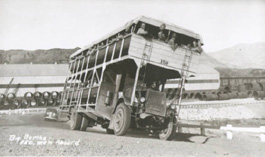 UNLV Digital Collections
It was 1931 and the country was reeling from the effects of the Great Depression. When word got out that work could be had in Nevada where the dam would be built, the area was flooded with men and their families, hoping for a new start. At one point, there were over 5,000 men employed to construct the dam.
Living conditions for the families of dam workers was challenging, to say the least. Without enough housing for the thousands of workers, temporary communities sprouted up and down the canyon. Ragtown, located near the dam in Black Canyon, consisted of makeshift houses, tents, cardboard structures and canvas lean-tos. Summer temperatures in the canyon could get as high as 120°; imagine the difficulty in surviving in such conditions.