Wildlife Viewing
What Wildlife Lives Here?

Lake Clark National Park and Preserve is home to healthy and wild populations of animals.

Black bears are present throughout the park and preserve except at higher elevations.

Brown (grizzly) bears occur in all habitats, but the area along the park's Cook Inlet coast supports the most sizable concentrations.
Caribou remain primarily in the hills around Turquoise, Twin and Snipe lakes and westward to the Bonanza hills.

Moose, the largest members of the deer family, are found below timberline throughout the park.
Dall sheep range at higher elevations all along the western flank of the Chigmit Mountains.
Lake Clark is also home to many less conspicuous mammals.
Coyotes are found in grassy as well as brushy or boulder-strewn areas of the park.
Wolves are primarily in the park's mountainous areas, generally below 5,000 feet in coniferous forests, and in open tundra.

Both red fox and lynx are found throughout the park at almost any elevation, primarily in coniferous-hardwood forests and open tundra.

Other mammals include marten, river otter, wolverine, weasels, mink, hares and beaver.
Both Chinitna Bay and Tuxedni Bay support a variety of marine mammals. Some of these mammals include sea lions, beluga whales, harbor seals and porpoises. Other whales may also be seen occasionally in the area.
Over 125 species of birds are found in the Lake Clark region. Learn more about birdwatching in Lake Clark.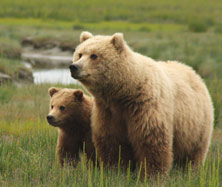 NPS Photo / Kevyn Jalone
Bear Viewing
Lake Clark National Park and Preserve offers world class bear viewing. The Alaska Peninsula coastal habitat includes unique sedge filled meadows in close proximity to salmon filled rivers. This coastal habitat, while patchy, stretches through Katmai National Park and Preserve and into Lake Clark National Park and Preserve and includes the extensive meadows of Chinitna Bay and Silver Salmon Creek. These two sites offer outstanding brown bear viewing.
Several guiding services specialize in bear and wildlife viewing expeditions and day trips. Visitors who wish to capture animals on film can arrange a trip with a photography guide to view wildlife and record their animal encounters in photographs. Guide services authorized to operate within the park and preserve can be found on our getting around page.
Viewing Wildlife Ethically - Take The Pledge!
The state of Alaska offers the following ethics guidelines. Pledge to uphold them and keep the wilderness wild!
Give wildlife plenty of space. Binoculars and spotting scopes allow you to view wildlife without getting too close.
Approach wildlife slowly, quietly, and indirectly. Always give animals an avenue for retreat.
Try to view animals without changing their behavior. Avoid using calls or devices that attract wildlife. Resist the temptation to throw rocks to see a flock fly. Remember - harassing wildlife is illegal.
Be respectful of nesting and denning areas, rookeries, and calving grounds. Well-meaning but intrusive visitors may cause parents to flee, leaving young vulnerable to the elements or predators.
Stay on designated trails whenever possible.
Leave "orphaned" or sick animals alone. Young animals that appear alone usually have parents waiting nearby.
Restrain pets or leave them at home. They may startle, chase, or even kill wildlife.
Let animals eat their natural foods.

Learn to recognize signs of alarm. These are sometimes subtle. Leave if an animal shows them.