NPS Photo / W. Hill
Maps: USGS 1:63 360 series topographic maps Kenai A-7, Seldovia D-8, & Illiamna D-1
Access: Fly into Silver Salmon Creek Beach, near stream outlet, fly out of Chinitna Bay at west end of beach/spit.
Distance (approx): 25 miles
Time: three days, two nights
Difficulty: Straightforward beach hiking with river crossings. Mostly sand and gravel surfaces along the route, some boulders for short distances.
Highlights: Excellent seasonal fishing (salmon runs from July to October). Great views, plentiful camping sites. This is a great way to get away from people as you will be traveling through areas that are not commonly visited.
Hazards: three river crossings, all are comfortable to cross during low tide on the tidal flats below the beach, except during seasonal flood stage in early spring. One large cliff face, located in Chinitna Bay, meets the high tide line and is not passable during the highest parts of the tide.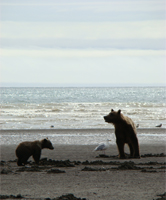 NPS photo / W. Hill
Notes: Bears! You must be ready to store your food and anything with an odor such as deodorant, toothpaste, fishing gear, in a bear resistant food container or hung in a tree twelve feet off the ground and four feet away from the tree trunk. You should also cook at least 100' away from your camp to avoid an association made by the bear between your camp and your food. Choose a spot away from bear trails and feeding areas such as salmon stream banks to camp. Portable electric fences to surround tents and gear at night are highly recommended for this route and for camping anywhere along the park's Cook Inlet Coastline.
Use the Seldovia tidal charts and add .5 hours to the predicted cycles.
Route: This is a straightforward beach walk. If you stick to the beaches you will have no problem finding your way. Time your day's hiking around the tidal fluctuations. Excellent camping sites abound. You will be exposed to the weather and elements on this route, it can be overly hot and dry or very cold and wet, you should be prepared for a range of weather.
Coastal Beach Hike
A map of the area around Silver Salmon Creek Beach