Do you ever wonder who is behind the initials at the end of our social media posts? Meet the social media team and the people who bring Lake Clark National Park and Preserve to you.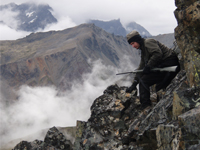 (BAM)
Living in Port Alsworth for over 10 years, Buck works as the wildlife biologist for Lake Clark National Park and Preserve. As a park biologist, he spends many hours monitoring populations of terrestrial wildlife species throughout the park. Data collected during surveys provide the information needed to manage this diverse and healthy suite of wildlife and their pristine natural habitats. Outside of work, Buck enjoys hiking, fishing, and hunting throughout Alaska.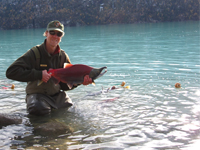 (DY)
Dan is the fisheries biologist at Lake Clark NP&P. He first came to Alaska 20 years ago and has been living and working in the Bristol Bay watershed since 1997. He received his graduate degree from the University of Alaska Fairbanks and his professional interests include salmon and freshwater fish ecology, fish movements and migrations, and radio telemetry. Dan loves working outdoors, learning new things, and living and working in the untamed watersheds of southwest Alaska. When he is not working, Dan can be found hiking, packrafting, skiing, or snowkiting.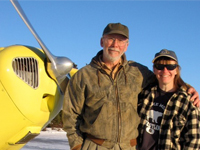 (JM)
Jerry and Jeanette are year-round park volunteers living in a remote ranger cabin on the shores of Telaquana Lake at the north end of Lake Clark National Park and Preserve. Keen observers of the natural world around them they experience life through the rhythm of the seasons and the wildlife around them. A visit with them always comes with stories of the latest happenings in the wilderness world. They are an invaluable asset to the operation of the park, supporting research and monitoring of park resources through a variety of projects but primarily at the fish weir at Telaquana Lake and contacting visitors in the summer. Jerry and Jeanette are the ultimate team and so not only do they share initials, but they post together.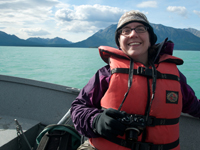 (KM)
Katie is the museum curator for Lake Clark. Admittedly, she is biased, but she thinks that Lake Clark is one of the most beautiful and important places on earth. In her work for Lake Clark, Katie keeps track of the all of the objects that are donated to or collected in the park by researchers and staff---from ancient stone tools to Dick Proenneke's journals, from historic photographs to pressed plants, from geologic specimens to the operating records of the park. She works with researchers and the public answering questions, providing access to all of these records and objects, and sharing her love of this special place.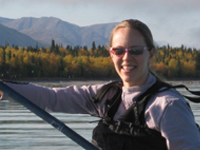 (MR)
Hiking, kayaking, camping, skiing, ice biking, and fishing Megan loves to explore Lake Clark with her family and friends. With two young daughters, Megan specializes in playing in the Alaska wilderness with children. She wants to know the park through being immersed in the place by eating the salmon, walking the land, flying over the rivers, sitting quietly in her kayak to watch bears travel the beach. She says, "Every season is my favorite, by the time it arrives I can't wait for what is to come, the snow, ice, mud, sun and all that comes with it." At work Megan works on promoting national parks as places of health and wellness, developing meaningful partnerships with outside organizations to further the National Park Service's mission, developing exhibits, and creating digital material to bring a piece what is special about Lake Clark to people beyond our boundaries.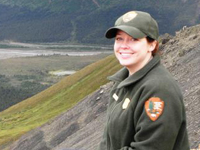 (RJ)
A tomboy at heart, Rebekah grew up with a fishing pole in one hand and a hiking stick in the other. A cross-country family vacation during college introduced her to the vast wild lands of America's western National Parks. It was in Alaska's very own Denali National Park and Preserve, where she tagged along for every Ranger-led hike, talk and campfire presentation during her week-long stay, that she learned it is possible to combine her love of nature with a career. After nearly a decade working for America's premier National Parks and Wildlife Refuges, 3 years of which were right here in Alaska, Rebekah has found her home with Lake Clark National Park and Preserve as the interpretive park ranger stationed in Homer, AK. She looks forward finding creative ways to share this remote American treasure with you.
The following social media team members no longer work for Lake Clark. Although they have moved on to new adventures, you may still see their initials on older posts. We wish them the best of luck with their new endeavors.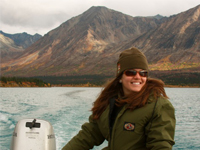 (KJ)
Kevyn first came to Lake Clark as a visitor in 1998. When she returned in 2002 as a backcountry ranger, she thought it would just be an interesting blip on her resume. But spending summers watching brown bears and educating visitors about safe practices in bear country proved to be pretty fun. Ten years later, she still spends summers at Silver Salmon Creek, one of Lake Clark's most visited places. While the bears hibernate, she works in the Homer Field Office as part of the park's concessions team.