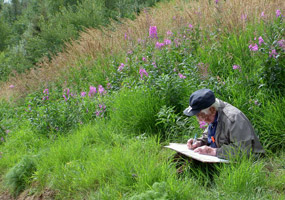 Cultural anthropologists and historians identify, document, and interpret ethnographic resources in the National Park System.
Long-term cultural associations with Lake Clark National Park & Preserve lands are recognized and honored through studies, reports, the development of educational materials and more. Cultural anthropologists also provide leadership and guidance for federal and other public programs that consult with park resource stakeholders.
National Park Service historians conduct research and prepare studies, assist with environmental compliance review and planning, write nominations for the National Register of Historic Places, and assist Alaska Native village partners. At Lake Clark National Park & Preserve, historians have gathered an unparalleled collection of historic photos and produced several books available to the public. This research has gradually revealed the stories of old-time Lake Clark.
The Park publishes it's Ethnographic Overview & Assessments and Historical Surveys so that they are available to the public. Often, the Park collaborates with community members and other ethnographers who also create books that preserve and share traditional knowledge.
Ethnographic studies document the ties that rural Native and non-Native people have to park lands. The Applied Anthropology Program, through a partnership with the Subsistence Division of the Alaska Department of Fish and Game, is currently documenting Native place names for various features of the land and waters in and around Lake Clark National Park and Preserve. To date, rural residents have assisted project staff in identifying more than 1600 names for rivers, mountains, fish and hunting camps, and many other natural features. Project plans concluded in the development of a cultural atlas-- Dena'ina Ełnena, A Celebration: Voices of the Dena'ina-- featuring stories, essays, maps, photographs and other illustrations that demonstrate cultural ties to the land.