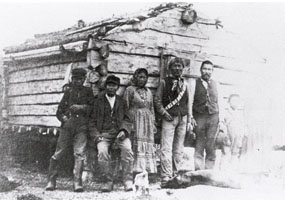 Photo courtesy of the Field Museum of Natural History, Chicago.
Kijik Village
Historical texts as old as 1818 mention Kijik village, but the first residents may have moved there decades earlier. The community contained many houses and, according to elders from the village of Nondalton, a Russian Orthodox church was built around 1889.
Kijik residents initially weathered a number of diseases introduced by outsiders, but following outbreaks of flu and measles between 1902 and 1909, families began to leave for Old Nondalton, Tanalian Point, or elsewhere. By 1909, residents had completely abandoned the village.
Evidence from other archeological sites in the Kijik Landmark indicates that Dena'ina people were in the Kijik area for many generations before Russian contact in the late 1700s. Scientists have tested and radio-carbon dated only a few sites in the area, leaving the duration of Dena'ina presence in the area a mystery.