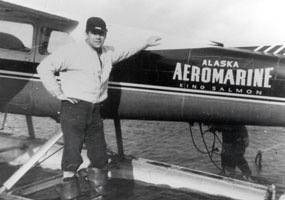 Photo courtesy of Lucy McConnaughy.
The first aircraft to land on Lake Clark was a Waco 10 biplane on floats in 1930. The historic flight ushered in a new era, and made life in Lake Clark more connected to the outside world.
Soon after, Tanalian Point resident Floyd Denison had radio contact with Star Airlines in Anchorage, which later became Alaska Air. Just twelve years later, Leon "Babe" Alsworth, Sr. established the first air taxi service on Lake Clark, based at the new settlement of Port Alsworth.
During World War II and after, many of Lake Clark's residents served their country in the armed forces. Demand for furs declined in the 1960s and 1970s, but a new industry was just beginning - wilderness tourism.