Things To Know Before You Come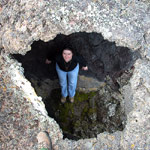 It pays to plan ahead! Whether it's a sunny, cloudless summer day or a chilly winter morning, being prepared can make the difference between fun or frustrating vacations.
Getting Around
There is no public transportation in the park. All roads in the park, even the unpaved Medicine Lake Road, accommodate standard passenger vehicles. Snow can temporarily close roads, but the main paved road is plowed whenever necessary and the park is kept open all year. Although the road shoulder is narrow, road bicyclists frequently travel through our beautiful high desert landscape.
Accessibility
The Visitor Center and museum, all restrooms, sidewalks, exhibits, the campground amphitheater, and one campsite are handicapped accessible. Unfortunately, by their very nature, caves are inaccessible to anyone unable to navigate steep stairs, rocky trails, and in some cases, very low ceilings. A 'virtual cave' computer program is available at the Visitor Center. Many items in the museum are 'hands-on' for the visually impaired, and the park's film is narrated.
Goods & Services
The bookstore in the Visitor Center provides snack food, ice, flashlights both for loan and purchase, caving helmets, film, batteries, books, and an assortment of souvenirs.
No gas, firewood, restaurants, or showers are available in the park, but can be found in the nearby communities of Tionesta, CA; Tulelake, CA; and Merrill, OR (20-30 minutes from the Visitor Center area). It helps to plan ahead for what you'll need before you enter the monument.