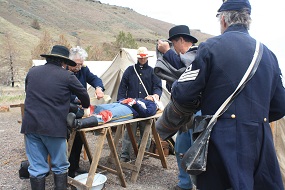 Annual Timeline Living History Event
Travel through time as you explore the Timeline Living History Event on Saturday May 10, 2014.
During the event you can immerse your self in the history of Lava Beds by visiting 5 Living History camps/locations and meeting the people behind the stories.
J.D. Howard (Mushpot Cave) - Howard explored and named over 120 caves and geologic features and was instrumental in getting Lava Beds designated a National Monument.
Polly Merrill (Visitor Center) - Polly Merrill and her husband made the first trip by automobile into Lava Beds, but are best known for the summer resort they ran near Merrill Cave in the 1920's.
Military Camp (Gillem's Camp) - Through much of the 19th century units of the U.S. Army were some of the first to arrive in a region. Today, members of the Cascade Civil War Society will demonstrate life in the frontier army.
Blacksmith (Gillem's Camp) - Blacksmiths were pivotal for the U.S. Army during the time of the Modoc War. They provided many essentials, like nails, and made repairs to damaged equipment.
Fur Trader Camp (Captain Jack's Stronghold) - The first white men to see Tule Lake were fur traders from the Hudson's Bay Company who traveled through the area in 1826. Members of the Mount Mazama Mountain Men will portray these first fur traders.
Four formal programs will also be presented:
11:00 am at Captain Jack's Stronghold - Fur traders will demonstrate how to start a fire, throw a knife and give you a peek into life as a fur trader.
1:00 pm at Mushpot Cave - J.D. Howard will guide visitors through Mushpot Cave will talking about his cave exploration years at Lava Beds.
1:00 pm at Skull Cave - Early cave explore E.L. Hopkins will lead a tour through Skull Cave, one of the several caves he discovered.
3:00 pm at Gillem's Camp Cemetery - Army soldiers will commemorate those who died on both sides of the Modoc War in a ceremony.
Don't forget your cameras, because following the ceremony all presenters will gather for a group photo.
---