Special Events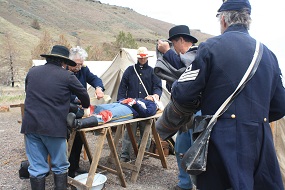 Annual Timeline Living History Event
Travel through time as you explore our Timeline Living History Event on Saturday May 11, 2013.
During the event you can visit 5 Living History camps/locations were you will learn what life was like as a fur trader in 1826, a pioneer traveling along the Oregon/Applegate trail, and an Army solider during the Modoc war. You can explore Mushpot cave with J.D. Howard, who is known for finding and naming over 120 caves and geologic formations here at Lava Beds, and learn about homesteading in Lava Beds from Polly Merrill who's family tried it in the early 1900's .
Three formal programs will also be presented:
11:00 am at Lyons Trailhead - Fur traders will demonstrate how to start a fire, throw a knife and give you a peek into life as a fur trader.
1:00 pm at Mushpot Cave - J.D. Howard will guide visitors through Mushpot Cave will talking about his cave exploration years at Lava Beds.
3:00 pm at Gillems Camp Cemetery - Army soldiers will commemorate those who died on both sides of the Modoc War in a ceremony.
Don't forget your cameras, because following the ceremony all presenters will gather for a group photo.
---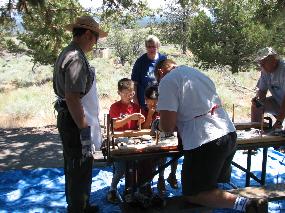 Jr. Ranger Day - Summer 2013
Children of all ages will enjoy special activities and a special evening program. We are still planning the activities for 2013, but please feel free to take a look at what we did last year.
Last year's activities will included, Replica Arrowhead Making, Tule Lake Shee Bracelets, Petroglyph Pendants, and making Creep, Crawly Critters.
These hands on activities and programs allow Jr. Rangers to be creative while they Explore, Learn about and Protect Lava Beds.
---
Sagan Planet Walk

Sciencenter Sagan Planet Walk audio tour featuring Bill Nye The Science Guy
is provided courtesy of the Sciencenter in Ithaca, NY. For more information,
please visit http://www.sciencenter.org


Duration:

10 minutes, 2 seconds

Credit / Author:

Sciencenter

Download Original File:
Did You Know?

Lava Beds National Monument is home to 340 plant species and 280 animal species.