Special Events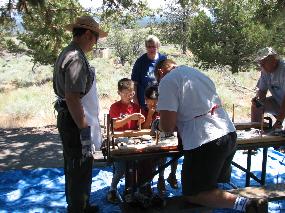 Jr. Ranger Day - July 26, 2014
Lava Beds is Going Wild! and children of all ages are invited to enjoy special activities and a special evening program.
To become a Junior Ranger and earn a patch, Jr. Rangers visit at least 7 of the below activities stations from 9:30 am - 4:00 Create
Make Your Own Rope
Create Pipe Cleaner Flowers
Create Your Barracks
Make Your Own Sun
Will It Erupt?
Junior Navigators
Watercolor World
Mini Microbe Mats
Wildlife Refuge
See the Sun through a Sun Scope
At 11am, 12pm, 2pm, and 3pm - practice your "I Spy" skills during a cave tour through Lava Brook cave.
From 7:00pm - 8:00pm at the Campground Amphitheater, take care of an ecosystem and decide its fate during the Trophic Cascade Evening Program.
8:00pm - Junior Ranger Graduation
These hands on activities and programs allow Jr. Rangers to be creative while they Explore, Learn about and Protect Lava Beds.
---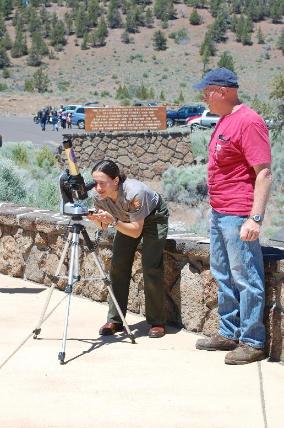 Astronomy Day and Night Sky Event - August 23, 2014
Attention all nigh sky enthusiasts, its time to grab your telescopes, binocular and your curiosity about the nigh sky and join rangers and amateur astronomers to explore and learn about the mysteries of the nigh sky.
Check back for more information on both day and night activities.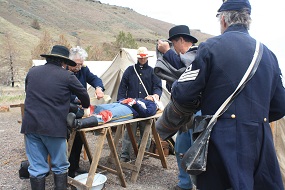 Annual Timeline Living History Event
Travel through time as you explore the Timeline Living History Event on Saturday May 10, 2014.
During the event you can immerse your self in the history of Lava Beds by visiting 5 Living History camps/locations and meeting the people behind the stories.
J.D. Howard (Mushpot Cave) - Howard explored and named over 120 caves and geologic features and was instrumental in getting Lava Beds designated a National Monument.
Polly Merrill (Visitor Center) - Polly Merrill and her husband made the first trip by automobile into Lava Beds, but are best known for the summer resort they ran near Merrill Cave in the 1920's.
Military Camp (Gillem's Camp) - Through much of the 19th century units of the U.S. Army were some of the first to arrive in a region. Today, members of the Cascade Civil War Society will demonstrate life in the frontier army.
Blacksmith (Gillem's Camp) - Blacksmiths were pivotal for the U.S. Army during the time of the Modoc War. They provided many essentials, like nails, and made repairs to damaged equipment.
Fur Trader Camp (Captain Jack's Stronghold) - The first white men to see Tule Lake were fur traders from the Hudson's Bay Company who traveled through the area in 1826. Members of the Mount Mazama Mountain Men will portray these first fur traders.
Four formal programs will also be presented:
11:00 am at Captain Jack's Stronghold - Fur traders will demonstrate how to start a fire, throw a knife and give you a peek into life as a fur trader.
1:00 pm at Mushpot Cave - J.D. Howard will guide visitors through Mushpot Cave will talking about his cave exploration years at Lava Beds.
1:00 pm at Skull Cave - Early cave explore E.L. Hopkins will lead a tour through Skull Cave, one of the several caves he discovered.
3:00 pm at Gillem's Camp Cemetery - Army soldiers will commemorate those who died on both sides of the Modoc War in a ceremony.
Don't forget your cameras, because following the ceremony all presenters will gather for a group photo.
---
Sagan Planet Walk

Sciencenter Sagan Planet Walk audio tour featuring Bill Nye The Science Guy
is provided courtesy of the Sciencenter in Ithaca, NY. For more information,
please visit http://www.sciencenter.org


Duration:

10 minutes, 2 seconds

Credit / Author:

Sciencenter

Download Original File: