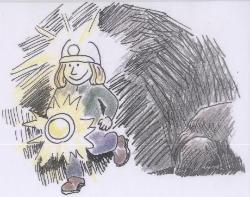 Cave Softly
Care for these fragile, amazing environments by following these rules:
Stay on available trails
Leave no trace of your visit: Do not eat, drink, smoke, or leave trash. It is a good idea to check your pockets before entering caves for miscellanous items that may fall out, such as your cell phone, wallet, keys or trash items.
Do not use caves as bathrooms: The only bathrooms near most of the caves are at the visitor center, plan your trip accordingly. If you cannot make it back to the visitor center bathrooms or a toilet, use a "wag bag" and pee bottle. A wag bag is a portable toilet, you can buy these at outdoor stores or you can make your own. Two very heavy duty bags that seal tight are needed, both bought and home made bags can still rip or tear so be very careful if you must use a wag bag. A pee bottle can simply be any shatter resistant container, glass bottles are not appropriate.
Protect the cave: Formations made of lava, calcite, and ice can be permanently damaged, it is best to avoide touching them when possible.Use electric flashlights, not carbide or gas lamps. Do not touch paintings or cultural artifacts as they are easily damaged.
Observe closures: To protect bats several caves are closed at different times of the year. If you see any form of cave life, try not to disturbe it by being quite and not shining your flashlight on it.
Pets are not permitted in caves
Avoid eating in caves: Crumbs left behind from your snack will attract the multitudes of tiny creatures searching for a meal. This causes an unnatural increase in which eventually results in a population crash as well.
Do not smoke or chew tobacco while in caves: These items can damage the cave environment.
Alcohol is not permitted in the caves