Archeological Program
Date:
June 11, 2010
Contact:
Maureen McGee-Ballinger, 701-745-3300
Archeological Program Presented at Knife River Indian Villages NHS
Learn about the data recovery dig currently underway at Knife River Indian Villages NHS. Join the free archeological program on June 12 at 2:30 p.m. in the visitor center. Albert LeBeau, Archeologist from the Midwest Archeological Center in Lincoln, Nebraska will present the latest information on the recovery activities at KNRI.  
The dig, conducted by Dr. Dennis L. Toom, University of North Dakota Grand Forks Department of Anthropology, Archeological Field School, includes mapping of sites that had been impacted by flooding in the spring of 2009. The flooding resulted in significant erosion of archeological sites. A data recovery dig was coordinated to save archeological information prior to further erosion.
Albert LeBeau will offer insight into the process and current results of the data recovery program. "We encourage everyone to take advantage of this rare opportunity to both ask the expert questions and view an archeological dig in progress," said Maureen McGee-Ballinger Chief of Interpretation and Cultural Resources.
After the program everyone is encouraged to visit the dig site and enjoy the Knife River Indian Villages NHS visitor center open daily from 8:00 am to 6:00 pm MST. Trails and visitor center can be accessed ½ mile north of Stanton, North Dakota. For additional information, please contact the park at 701-745-3300.
Did You Know?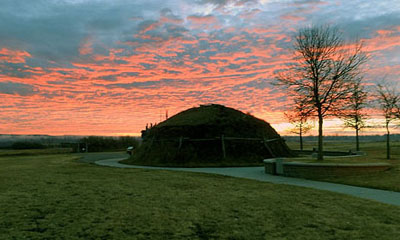 There might be as many as twenty family members, two horses, and four or five dogs living in an earthlodge.