Exploring the Gold Rush with a GPS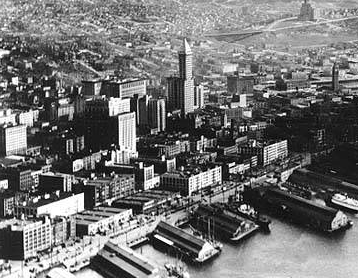 Geocaching is an outdoor activity where you use a Global Positioning System (GPS) receiver to hide and find "geocaches" or "caches", anywhere in the world.
The GPS receives signals from satellites which allow you to pin point your location on the globe. This information is displayed as either coordinates given in degrees latitude and longitude or as a location on a digital map image. With this information a GPS can tell you how to get another location,as long as you have its coordinates.
What activities can you do with a GPS?
Similar to a treasure hunt, GPS units are used to locate caches. A typical cache is often a small waterproof container containing a logbook where the geocacher enters the date they found it. Larger containers can also contain items for trading. Caches used for our searches are virtual caches.

Virtual caches are locations that don't contain the traditional box, log book, or trade items. To prove that you have located these caches you will need answer questions about a nearby plaque or interpretive sign, or send a picture of yourself at the site.


Klondike Gold Rush geocache actvities
Currently we have one geocache actvity through the Pioneer Square Historic District and soon we hope to have another of downtown Seattle, an adventerous a wide ranging search covers the state of Washington and for those unable to travel to far flung locations try your ability to located and answers questions using our internet-based geocache search.


Follow the below links to learn more about each type of search, the locations, a list of questions to answer, and how to confirm your
Pioneer Square Historical District Search

This short search will take you to some of the interesting places of the Pioneer Historical District. All sites are located within 4 blocks of the Klondike Visitor Center.
---
Seattle Gateway to Alaska and the Yukon

Whether you complete this search in an afternoon or over several days you'll discover locations that had or have a predominate effect on Seattle's connection with Alaska and the Yukon Territory.

This activity is still being assembled and is hoped to be active by summer 2015. Please check back then.
---
National Parks of Washington State

For the really adventurous, this search will require a visit to at least five of the 15 national park units in Washington state. You choose which ones to visit and then submit your answers and photos to us for verification and a certificate.
This activity is still being assembled and is hoped to be active by summer 2015. Please check back then.
---
Where in the world is the Klondike? (someday by fall 2014)

Not able to make an actual trip to Alaska and the Yukon Territory? This geocache adventure relies on your ability to use whatever means possible to locate each location and its role in the Klondike Gold Rush. Whether that be an actual visit to the location or a virtual visit via internet resources.