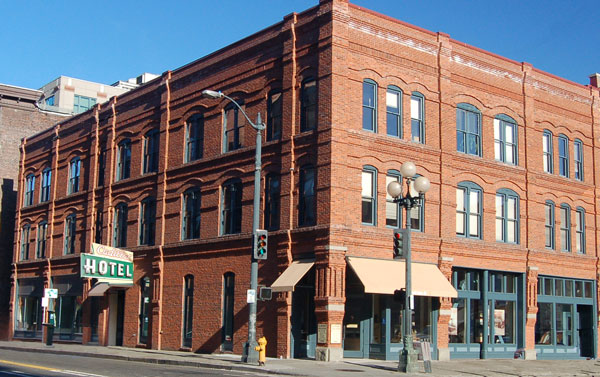 The Klondike Gold Rush N.H.P. visitor center is located entirely within a brick three-story building at the northwest corner of 2nd Avenue South and South Jackson Street. 319 Second Avenue South
The site is poorly signed. Most importantly the park does not have a natural area. The park is located in a building. The building is easily found by looking for Cadillac Hotel sign, which is on S. Jackson Street. The park's entrance is on the corner of South Jackson St and 2nd Ave South.

Many locals and street signs erroneously call the Klondike Gold Rush National Historical Park the "Gold Rush Museum". This is not a museum, but a visitor center with exhibits and movies.
By Airplane

Seattle-Tacoma International Airport is located approximately 15 miles south and the park can easily be access by the Airport to Seattle Link Light Rail. The International Link Light Rail station, is four blocks east of the park on Jackson Street.

---
By Car

Visitors arriving in downtown Seattle via I-5 should take the James Street exit to Fifth Avenue, a one-way street which becomes Fifth Avenue South, for six blocks to South Jackson Street. Turn right at South Jackson Street and proceed four blocks to Second Avenue South. The park is located on the northwest corner of this intersection.

Visitors arriving in downtown Seattle via I-90 should exit at Fourth Avenue South. Keep to the left and follow it past the football stadium (CenturyLink Field) and the train station (King Street Station, with landmark bell tower) to Second Avenue Extension South which turns into South Jackson Street. Follow South Jackson Street for two blocks to its intersection with Second Avenue South. The park is located on the northwest corner
Street parking, throughout Seattle is metered and limited to two hours. Street parking is free on holidays, but still limited to two hours. Private for fee parking lots and garages are nearby. Downtown Seattle provides a website listing locations, hours, and prices.
Public Transportation

The park is located in the Pioneer Square Historic District, an area served by many King County METRO bus routes. For information please call 206-553-3000 (press 0 for a live person) or visit the Online Trip Planner.
The park is within walking distance of several mass transit facilities; the underground International District light rail and bus station; the Washington State Ferry Terminal (Pier 52); the West Seattle/Downtown Seattle Water Taxi (Pier 50); and the King Street Station (Amtrak and Sounder trains).
The park is also easily access by bicycle. The Myrtle Edwards - Elliot Bay Trail which runs from West Seattle north to Ballard and links to the 90 mile Burke-Gilman Bike Trail.