Blog: Welcome to the Northwest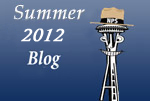 2012 Summer
Yeah...summer is finally here. Gone from memory are all those cold rainy days of winter. All those cool rainy days of spring. True we're in to the slightly cool days of early summer, but soon mid-July will be here and the sunny warm days will be returning. It's time to enjoy all the various types of outdoor activities.

National parks throughout the region will be hosting several free family events. Klondike Gold Rush in Seattle holds its 3rd annual National Park Family Day May 19. Fort Vancouver, Mount Rainier, North Cascades, and Olympic national parks will be hosting their first Get Outdoors Day June 9.

Check out the latest entries, on our blog page, to see what kind of fun activities our staff are involved in this summer.