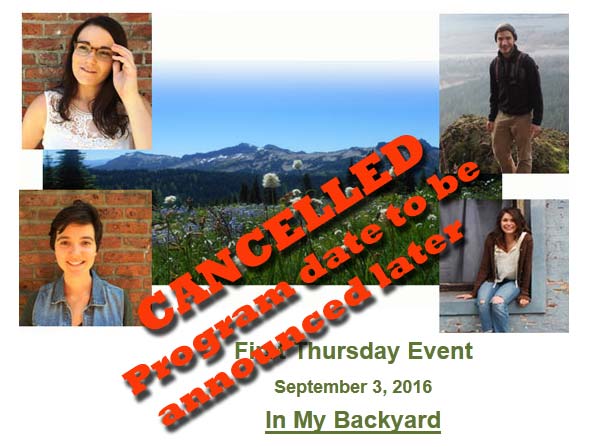 e Gold Rush National Historical Park-Seattle at 5:30 pm till 7:30 pm for travel tips to local national parks. These individuals will be on hand to answer questions and help plan trips. Informational materials for national parks, hikes and campgrounds will also be available. This presentation is part of the In My Backyard program, a National Park Service conservation leadership and youth outreach program. The information and photos presented during this First Thursday program were collected by this summer's student interns. The program is aimed at nurturing a sense of stewardship, appreciation and pride for the National Parks and the nature and history we all share.
For more information about the presentation, please contact Klondike Gold Rush NHP at 206.220.4240
For more information about In My Backyard, visit: inmybackyardnw.wordpress.com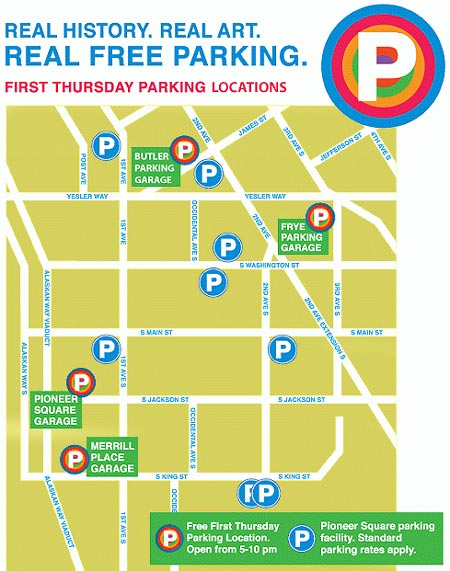 Free Parking on the First Thursday Art Walk
Visit the First Thursday Art Walk in Pioneer Square and park for free!* Select Pioneer Square garages will offer free parking between the hours of 5:00-10:00 PM. Simply visit a restaurant, gallery, store or Milepost 31 in Pioneer Square to receive a voucher and hand it to the parking attendant when exiting the garage. Here's the list of where you can get a free voucher parking.