Seismic Activity Damage
Earthquake damage is often associated with the up and down or sideways movement of the ground, but this is a rather simplistic view of the damage story.
The results of this movement can cause liquefaction, landslides, and/or tsunamis.
Here in Seattle all of these actions might occur with the next big earthquake leading to a great deal of damage. So how does the damage occur? Can you mitigate the earthquake damage? Is it possible to predict earthquake location and timing?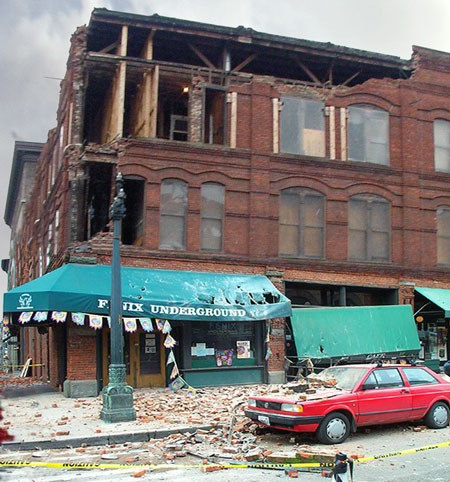 On February 28, 2001 a 6.8 earthquake lasting approximately 45 seconds shook Seattle and the surrounding area. The epicenter was 40 miles Southwest of downtown Seattle at a depth of 32 miles. The Cacscadia subduction zone had once again slipped as it had in April, 1965 (magnitude 6.5), April 1949 (magnitude 7.1), and countless other times.
Most of the damage occurred in unreinforced concrete or masonry buildings. The Cadillac Hotel Building, which would become our current visitor center, provided an opportunity to both show what happens to these types of buildings and how the retrofit a building to become earthquake resistant.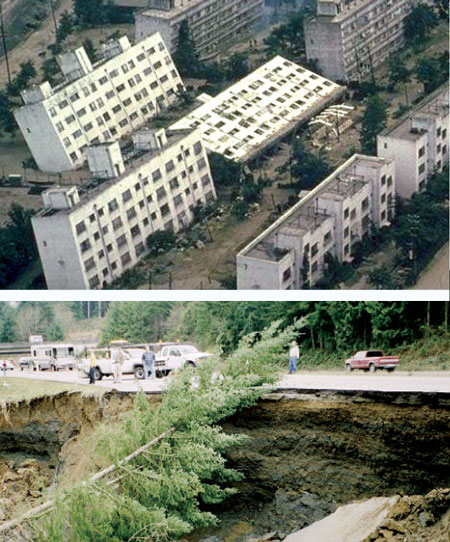 (Upper) National Geophysical Data Center (Lower) WA Department of Transportation
Recent studies have indicate that the next large 6.7 or greater earthquake will probably have a greater impact on Seattle and the Northwest than the Nisqually earthquake did in 2001.

Ground shaking will be severe resulting in damage to home, utilities, transportation links, and business. The amount of damage will greatly increase closer to the rupture and especially during a shallow quake. Here are some of the most serious effects of an earthquake will likely impact Seattle and the surrounding area.

(Upper photo) Damaged buildings 1964 Niigata, Japan earthquake
(Lower photo) Highway 101 damage during 2001 Nisqually earthquake.
Can the affects of an earthquake be mitigated?
Modern structures built on firm soils will survive with varying degrees of damage. Older buildings, especially unreinforced masonry and reinforced concrete structures will sustain heavy damage. Buildings and other structures can be seismically upgraded to less the damage and limit economic losses and human injuries.
Until recently many of the areas water and sewer lines are made of old cast iron piping that will break during a strong earthquake. The possibly exist of many of the areas water treatment and wastewater treatment plants suffer some damage possibly leading to environmental hazards. Most of the areas gas service distribution is through damage resistant plastic pipe. Some damage may occur where soils liquefy or landslide prone soil.
Earthquake Engineering Research Institute
Transportation in and out of the area is the biggest concern for a large earthquake. Many of the area's bridges and overpasses have been reinforced. The Alaskan Viaduct, an elevated highway which runs along the Seattle downtown shoreline, although reinforced and closely monitored would possibly collapse. It is due to be demolished and replaced by 2016.
Highways which are easily overwhelmed by normal traffic accidents or a moderate snow event would experience partial closures. Surface streets could take up some slack, but would cause severe traffic congestion. Seattle has several earthquake resistant forms of public transportation including, buses, light rail, and ferries. Most would probably sustain light or little damage due to the newness of their construction.

In the light of recent communication advances many think today's wireless systems would sustain little damage. Electrical circuits because of their redundancy for the most part would probably sustain little damage.
Liquefaction
Ground movement will allow water to percolate up through the soil. Buildings on soils that liquefy will settle or tip causing structural failures. Buried structures like fuel tanks and power/utility vaults will become buoyant and rise to the surface. Near the shoreline fill areas will become unstable and slip, possibly rupturing the seawall water causing more damage along the shoreline due to landslides.


Landslides

Not only along the waterfront, but through the area many of the areas bluffs and hill consist of volcanic debris or other weak unconsolidated materials. The Nisqually earthquake caused hundreds of landslides throughout the Puget Sound area; this would have been greatly increased if the soils had been saturated by more rainfall.
Tsunamis

Shoreline landslides, along with possible subsurface collapses or breaks will generate local tsunamis. Some of these may reverberate back and force across the sound. One serious affect of these could be the lost or severe damage of the port facilities. The docks would be of very limited use. rebuilding and use of the port would take years.
Be prepared
As shown by recent event, seismic activity can easily bring everyday life to a stand still. Now is the time to prepare for and minimize the impacts of an earthquake will have on you. More