Climate Friendly Parks
Do Your Part! for Climate Friendly Parks is the first interactive online program in the country that provides national park visitors and supporters with tools to understand and reduce their carbon footprints. Do Your Part! is sponsored by the National Parks Conservation Association (NPCA) in support of the National Park Service's Climate Friendly Parks program.
Why is Do Your Part! important? Our national parks are being impacted daily by both natural events and and human activity. Do Your Part! offers national park visitors educational opportunities to do their part to protect our natural resources.
How much of a difference can Do Your Part! make? People often feel their actions are too small to have an impact on an issue as big as global warming. However, when taken together, many small actions can make a big difference. In 2011 nearly 272 million visitors visited our national park system. That number is expected to rise 10% in 2012. If even a fraction of those visitors begin making simple changes at home and on the road, the effect would be enormous.
Visit the Do Your Part! website for additional information.
Easy changes for less impact on the climate.

Whether visiting Klondike Gold Rush National Historical Park in downtown Seattle or camping or visiting one of the nearby national park units, here are some easy tips to cut down on your impact.
Use your vehicle less, take public transportation.
Use reusable plates, cups, and utensils
Wear warmer or cooler clothing to compensate for temperature changes
Use the Internet for electronic downloads of park information and maps. When finished with a park map or brochure recycle it for the next visitor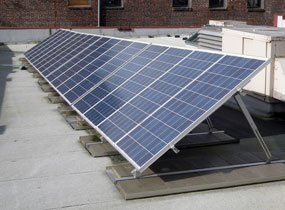 NPS photo
Solar power in the Pacific Northwest?

Recently a 3 kilowatt solar panel array was erected on the park's visitor center in downtown Seattle to demonstrate the feasibility of generating electricity. Many think, incorrectly, that Seattle weather is to cloudy or cool to generate solar power. No physical modifications had to be done to the building. To preserved its historic look the panels were set back on the roof to avoid being seen from the street.
On a normal sunny day in Seattle the panels are easily averaging 2.3 kW per hour and on the cloudiest days averaging about 300 watts per hour. This demonstration project easily proves that solar power generation can be achieved in an unlikely location.