Trails & Rails Partnership Program

Trails & Rails is a partnership program between the National Park Service and Amtrak. This program provides rail passengers, leaving from Seattle, with natural and cultural information that fosters an appreciation of the Pacific Northwest.
Railroads played an important part in both the development of historical Seattle and the Klondike Gold Rush. As the Pacific terminus for three intercontinental railroads, both stampeders and the supplies they would need flowed into Seattle onboard trains. Today freight trains carry all types of goods to and from the heartland of the United States to the Port of Seattle. Passenger trains like the Empire Builder and the Coast Starlight travel through and nearby many significant natural and cultural areas.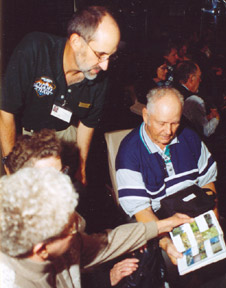 NPS photo
Utilizing script outlines and portable public address system, as well as the train's public address system, Trails & Rails guides provide information on natural and cultural history as seen from the trains
Prospective guides must meet certain physical standards regarding vision, hearing, speaking, and general physical fitness. Additionally, candidates must be able to turn a script or outline into their own words for presentation to the public. These positions are uniformed, and uniforms are provided. The next mandatory training will start mid-March 2015. No new guides are needed at this time.
Please contact Julie Fonseca de Borges at 206-220-4240 for more information.