Loading the player...

The Trail Center

Before heading out on the trail, be sure to stop by the Trail Center located on Broadway between 5th and 6th ave.

Duration:

1 minute, 46 seconds

Credit / Author:

Shannon Millard

Date created:

2015-08-07
Trip Planning for the Chilkoot Trail
The Chilkoot Trail is managed by the National Park Service and Parks Canada. Permits are required for backpacking the Chilkoot during peak season, between June and September. Make your reservations in advance with Parks Canada.
Approximately 2,500 hikers backpack the Chilkoot trail each year. Day hikers do NOT require a permit; however, most visitors spend 3 to 5 days hiking the trail.
If you need transportation to the trailhead (which is 10 miles from Skagway), see the transportation section below.
The Chilkoot Trail ends at Lake Bennett, British Columbia and accessed only by train or plane. Passports are required for trail.
Transportation
Shuttle services in Skagway as of September 2015:
Shuttle services from Bennett:
When You Arrive in Skagway
Register and get your hiking permit at the Trail Center when you arrive in Skagway, on Broadway between 5th and 6th Avenues. Present your passport (required) and watch the 18 min bear safety video. Current trail conditions and weather updates are posted at the Trail Center, Visitor Center and the Dyea Ranger Station.
Commercial Outfitters and Groups
Special regulations apply for commercial guided trips. If you are the group leader for your party, please read our group planning information.

Additional Resources
For more information on planning your trip, visit the Parks Canada website and use the links on the left. Printed resources such as maps or guide books can be purchased from Alaska Geographic.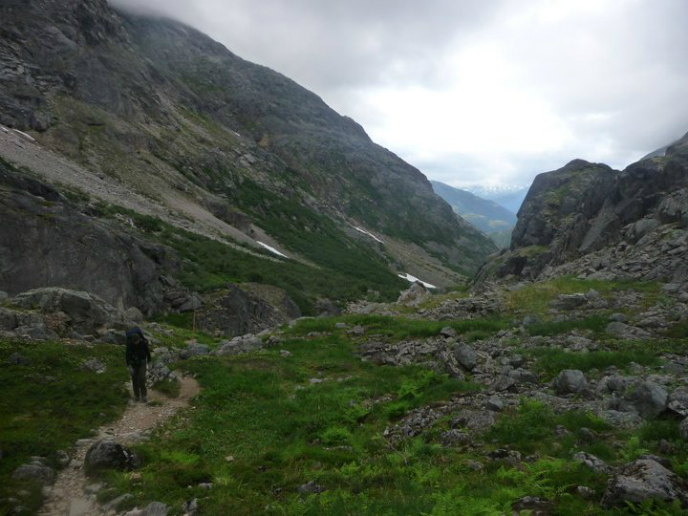 NPS photo