People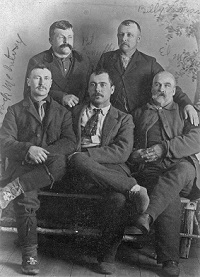 Photo courtesy of the Candy Waugaman Collection
The Klondike Gold Rush is full of
fascinating stories
showing us the scale of this human drama. We have learned about stampeder experience from thousands of
historic artifacts
,
photographs
, journal accounts, published memoirs, and archaeological discoveries.
Dive into history to


10 Photos

Historic photographs show the unique dime museum and funky customized tour buses created by inventor, entrepreneur and showman Martin Itjen. Itjen came to Skagway for the Klondike Gold Rush and did a variety of odd jobs before developing his tour business. Itjen developed Jeff. Smiths Parlor as the star destination of his tours and outfitted the museum with animated figures of Soapy Smith, Dangerous Dan McGrew and Lady Lou.

9 Photos

Historic images from Skagway, Alaska showing early life and society at the turn of the 20th century.