Palm Sunday Avalanche Page 5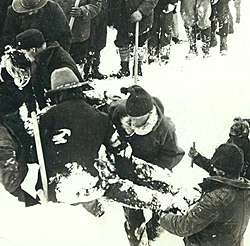 The reason that the number and identity of the victims is so inconsistent lies in the transient nature of the stampeders, the inefficiency in the identification and burial process, and the physical difficulty in accounting for all the victims. In a rare display of unanimity and selflessness, the stampeders abandoned their collective trek in order to rescue and locate the snow slide victims. A tent in Sheep Camp was donated for use as a morgue, and the local Citizens' Committee, appointed at a miners' meeting, officially presided over the processing of the bodies for shipment and burial.21 Eyewitness accounts indicate that most or all of the victims were identified and claimed, and death certificates were issued. The Dyea Trail assured its readers that "a complete record of all transactions [was] kept. A list of the principal effects found on a number of the bodies, and a record of the Committee's work will be filed with the United States Commissioner's office at Dyea."22
Reports indicate, however, that the identification and burial process was flawed. One story noted that con-man "Soapy" Smith had himself appointed coroner, and before Mounted Police officers could intervene, many of Smith's gang members had stripped the bodies of cash, jewelry and other valuables.23 Moreover, no existing records from the Commissioner's office show either the death certificates or the lists of the victims' personal effects. It is unlikely, based upon these discrepancies, that the number or identity of those killed will ever be known.

NPS photo
The Slide Cemetery near Dyea is the major existing landmark for the Palm Sunday snow slide. The site of the slide itself is marked only by a nearby interpretive sign. The marker is located along the recreational trail and is thus away from the site of the slide, and is south instead of north of the powerhouse remains. The ravine where the slide took place has not been specifically located or marked.
Endnotes
21. Bearss, Klondike Gold Rush, pl. 73; Dyea Trail, 4/9/98.
22. Nerland in NAHA, Norwegian-American Studies, p. 136; Dyea Trail, 4/9/98, 4/11/98.
23. Berton, Klondike, p. 266; Davis, Sourdough Gold, pp. 52-53.