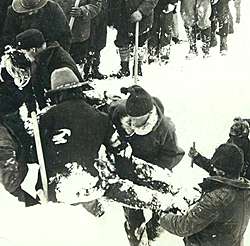 Photo courtesy of University of Washington's Eric A. Hegg Collection.
The largest and most destructive slide came soon afterwards. The main party from the Scales followed in the recently-created footsteps of the construction crew. The entire group of 200-odd stampeders, together with several dogs, marched in a long, sinuous line. Due to the low visibility, they were kept together by a 200-foot-long rope given to them by the construction crew. This rope had previously been used to haul freight from the Scales up to the summit of Chilkoot Pass. The group descending toward Sheep Camp lined up on alternate sides of the rope. Shovels were the group's only known luggage.12
Following the path of the construction crew, the party left the main trail about 1000 feet below the Scales, angled left, and entered "drow-a-low" ravine sometime between 11:00 a.m. and noon.13 They were totally unaware of the fate of the construction crew, and could barely make out their tracks in the swirling snowstorm. About a third of the party had entered the upper end of the ravine when the mountainside again gave way.
Those in the rear of the party were untouched, but those holding the front end of the rope were buried, some to a depth of between twenty and fifty feet. The entire slide area was about ten acres in extent; about 150 yards of the cut-off trail was affected.14 The avalanche was accompanied by a "fearful rush" of wind from the east; doubtless the wind, the recent heavy snow, the warming trend and the impact of the many closely-spaced people traversing the fragile snow pack triggered both this snow slide and the one which had descended upon the construction crew. Unlike some avalanches, this one carried no trees, stones or ice. In addition to the people it swept away, it engulfed many provisions which had been cached along its path.15