Thirty-three Miles
Rewinding back to January when Nicole and I were interviewing for this wonderful internship here at Klondike Gold Rush National Historical Park, we were informed that the internship would involve tackling a few major projects, all incorporating artifact conservation. (Psst…if you're wondering what artifact conservation is, be sure to check out our previous blog post, "What is artifact conservation, anyway?") One of these major projects was working on the George and Edna Rapuzzi collection we've introduced in our prior blog postings, and another was hiking the historic Chilkoot Trail, assessing the condition of Gold Rush era outdoor artifacts along the way. Well, five days and thirty-three miles are under our belts - we have successfully hiked the Chilkoot Trail!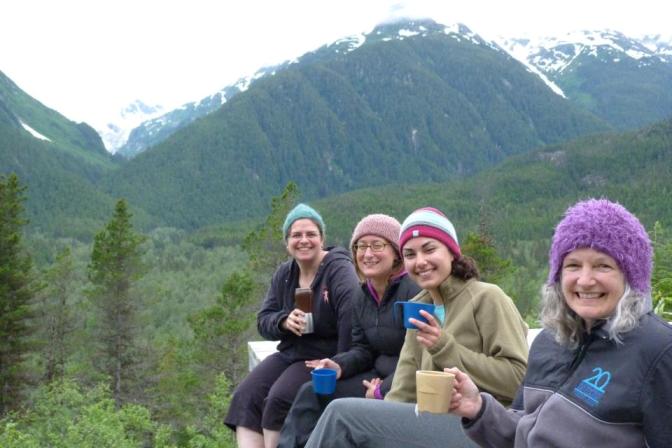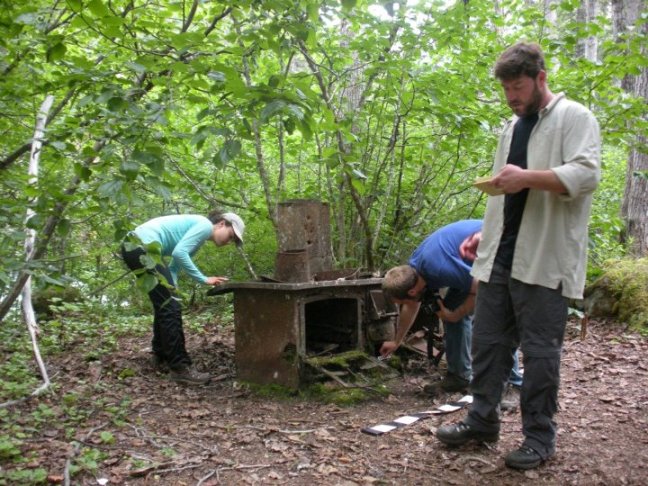 The Chilkoot Trail was originally one of the trails Tlingit natives would have used to trade with the Interior, and is also one of several routes Gold Rush stampeders would have taken to travel to the Klondike gold fields. The trail starts in Dyea, just nine miles from Skagway, and snakes thirty-three miles through the Alaskan and Canadian wilderness, ending at Bennett Lake in British Columbia. In Bennett, the stampeders of 1897 and '98 would have hopped on a boat and continued sailing north to the Klondike, but for our team of cultural resources folk, reaching Bennett meant boarding a White Pass & Yukon Route train headed back to Skagway as the conclusion of our journey.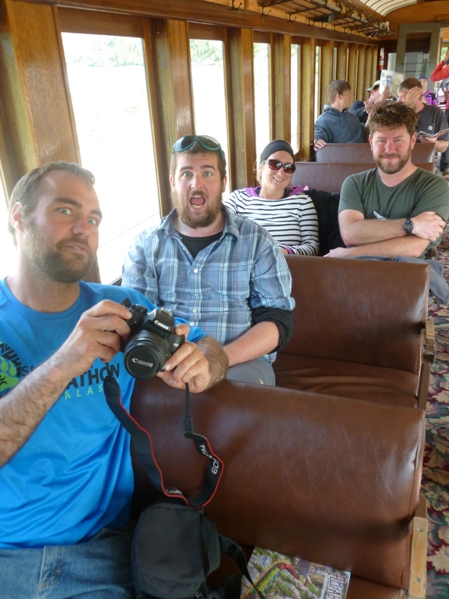 And what a journey it was! Most hikers do the trail in three or four days, and for the bulk of those three or four days, the weather tends to be rainy, cold, and windy. Before leaving for the trail, we stocked up on rain gear, assuming we'd be absolutely miserable without some Gore-Tex. Much to our pleasant surprise, our rain gear stayed packed away in the bottom of our packs for the entire trip!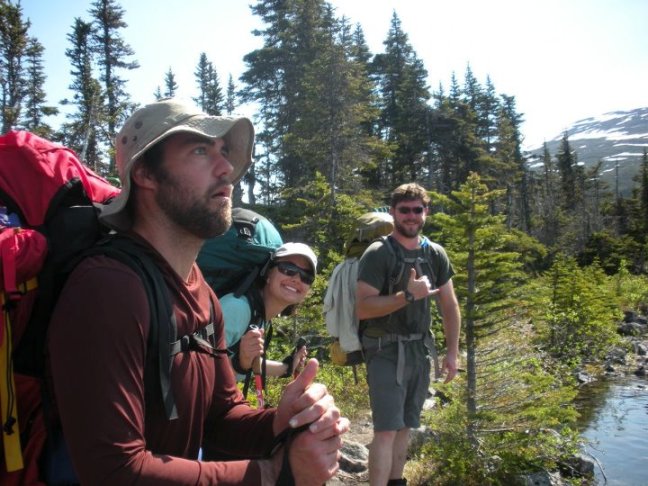 Nicole and I (along with Sam, museum curator; Deb, museum technician; and Shawn, Tom, and Phil, archaeologists) were so lucky to have been able to hike the trail in five days (as opposed to the typical three or four, or in some extreme cases, one!) and take time to really drink in our spectacular surroundings and do some careful and thorough condition assessments, of course! But we were also extremely lucky to have been blessed with five days of sunny, warm, and quite frankly, balmy weather.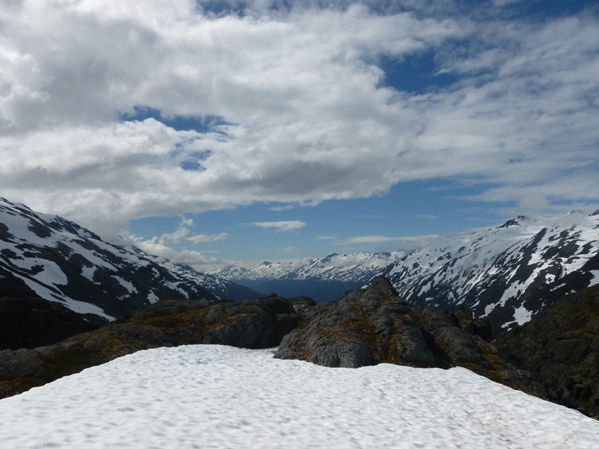 Well, to be fair, on the third day of our trip, the day did start out slightly cool and cloudy, drizzling intermittingly, so it wasn't quite like the tropical paradise you may be imagining. The third day was the day we climbed the Golden Stairs, so-named for the steps the stampeders would have carved from snow on this steep incline to reach the Summit. The Stairs are a grueling stretch of trail that ascends approximately 1,000 feet in about a mile! As we hiked this intense stretch to the Summit, the sky slowly cleared behind us and by the time we had reached the top, crossing into Canada, the weather was again balmy, clear, and beautiful. We couldn't have planned the trip better if we tried!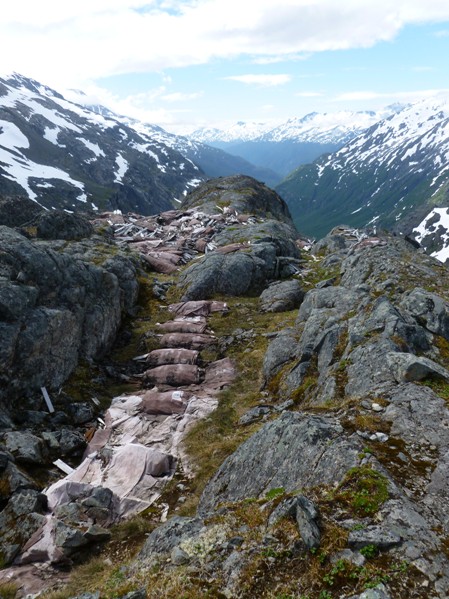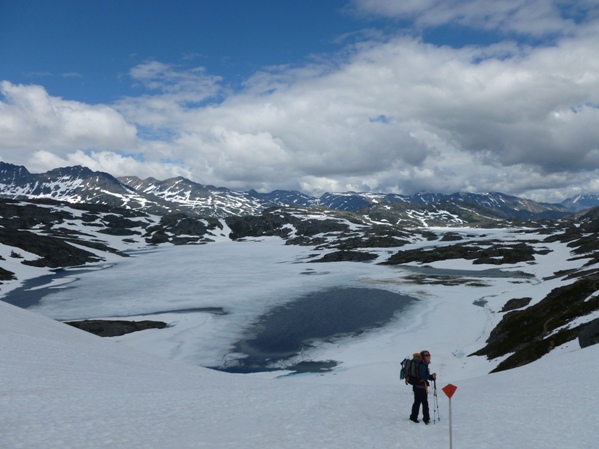 As artifact conservation interns, the Chilkoot Trail was an absolutely amazing experience. Before treating any artifact, extensive photo and written documentation is completed, part of which involves researching an object's historical context. On the Chilkoot, we were able to experience artifacts in their historical locations, making their historical context so vivid and tangible. These artifacts add another dimension to the Trail, and lent Nicole and me a deeper understanding of archaeological sites.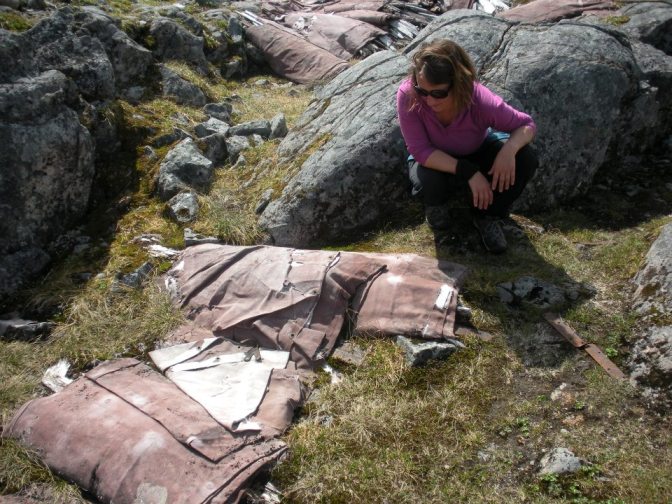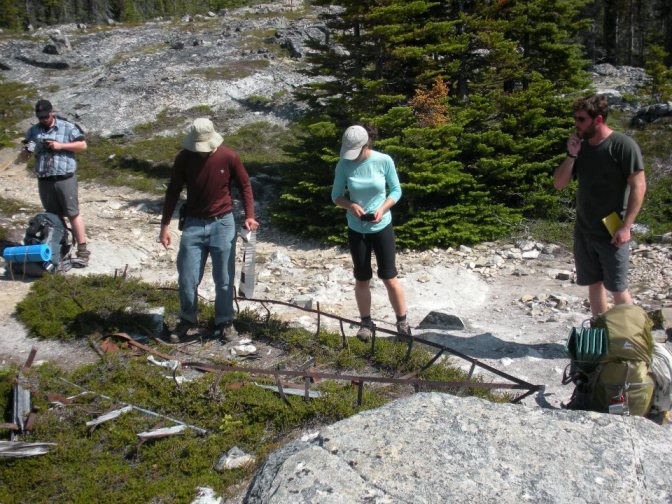 Many of the artifacts we encountered along the trail were either objects discarded by the stampeders en route to Bennett (think cans, shoe soles, clothing, belts, and glass bottles) or parts of the system of transportation or communication that functioned along the Trail during the Gold Rush (think telephone wire, cords and wenches from a tramway, and boat and sled frames). We also documented historic hotel and logging mill sites, in addition to the spectacular Canyon City boiler and an astoundingly neat stack of collapsible boats just before the Summit. Most of the artifacts are in remarkable condition, considering they have been exposed to the harsh climate of Alaska and Canada for over a century.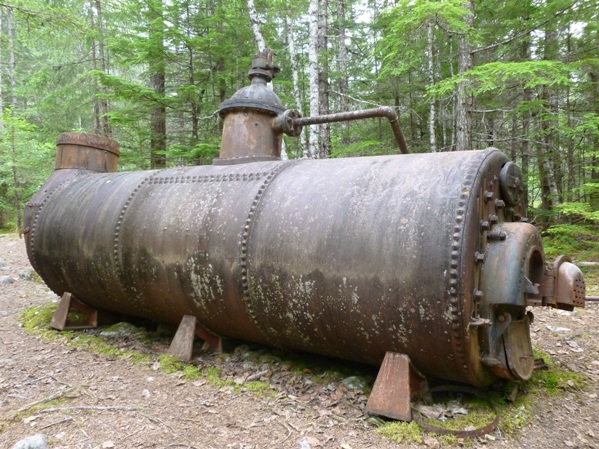 Now that we have completed these assessments, maintenance or monitoring plans for the artifacts can be developed. The history of the Gold Rush is preserved in the very fabric of the Chilkoot Trail, and additional conservation interns and cultural resources workers will be able to hike the Trail in the years to come to ensure that this history is not lost as the artifacts deteriorate. Hiking the Chilkoot Trail was a truly breathtaking experience (sometimes literally!), and for both the phenomenal wilderness and for the unique history lesson, the Chilkoot experience is unmatchable.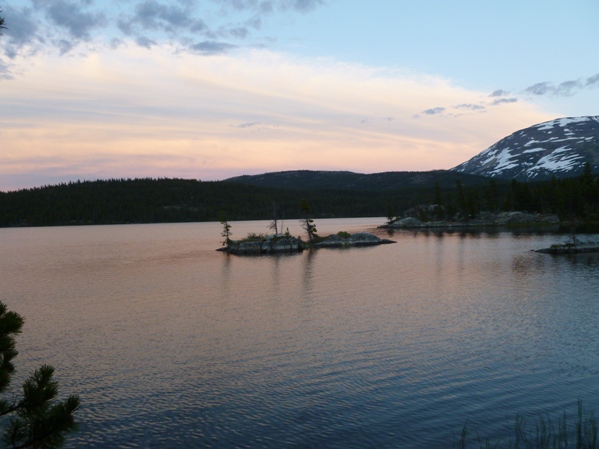 Chilkoot Trail, Artifact conservation, Archeological objects, Interns, Hiking, camping, summit, Parks Canada, Klondike Gold Rush National Historical Park
Did You Know?

The Pioneer Jewelry Store opened in August of 1897 in a tent and can today be seen as Kirmse's Jewelry & Curio store. Kirmse's watchface painted on the east mountain face is a surviving gold-rush era advertisement for this store and bridges Skagway's history from gold rush to major cruise port. More...