Klondike Gold Rush NHP gives Hisotric Buildings in Skagway "Facelifts"
Although most things slow down during the winter and spring months in Skagway, Alaska the preservation and special project crews at Klondike Gold Rush NHP are in full swing working to preserve and stabilze old buildings or add historical effects to add meaning to the historic structure.  Check out what recent work the crews have been doing!
New "old" signs for Pantheon Saloon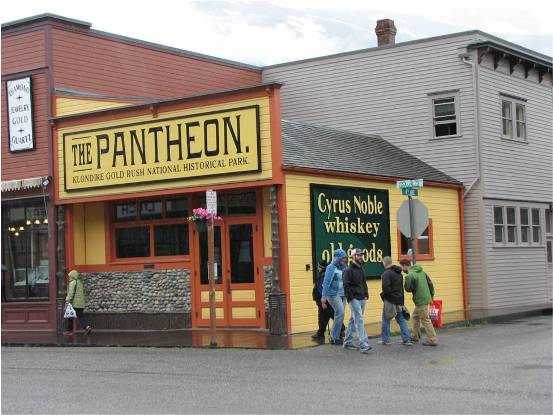 NPS Photo: Restored Pantheon 
Klondike Gold Rush National Historical Park recently put finishing touches on the historic Pantheon Saloon building in downtown Skagway.  Originally constructed in 1897, the Pantheon was heavily modified in 1898 and again in 1903, and operated as a saloon from 1903 to 1916.  During this period, the owners placed a large sign advertising Cyrus Noble whiskey on the north elevation .  The sign says "old goods" which indicates excellent quality whiskey. During archeological excavations of the building, two Cyrus Noble whiskey bottles were found. Charles O. Walker, designer of the rustic façade of the Arctic Brotherhood Hall, helped the owner construct a new façade of driftwood, stones, and concrete.  The National Park Service restoration of the Pantheon Saloon began in 1998 and was completed in 2000.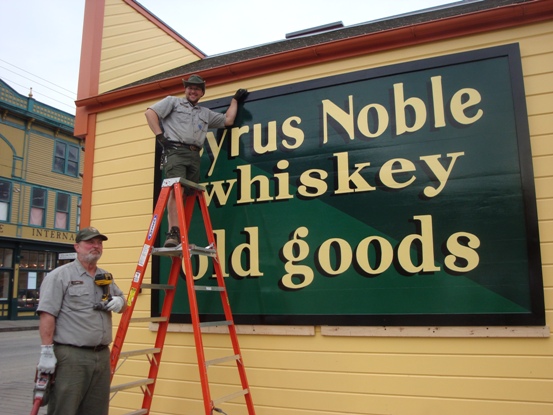 NPS Photo: Clayton Harris and Andy Nichols work together to hang the new whiskey sing on the Pantheon.
Local artist Eve Griffin hand- lettered and painted both the new whiskey sign and the Pantheon sign facing Broadway. Historic photographs were consulted for paint color and font style.  
In the summer of 2010, the Pantheon was converted from a jewelry store, part of the NPS Historic Property Leasing Program, to an activity center for Junior Rangers.  Exhibits illustrate the trails followed from Skagway to the gold fields in the Yukon Territory. Children can dress up wearing period clothing. They have the chance to see how it feels to wear a stampeder backpack of 1898 and compare it to a lighter modern pack used by trail hikers today.   Park staff is looking forward to new tee shirts that say "I got my Junior Ranger badge at the Pantheon Saloon."  At this time there are no plans to restore the interior bar or add slot machines like in the good 'ole days.
Klondike Gold Rush National Historical Park Completes New Roof on YMCA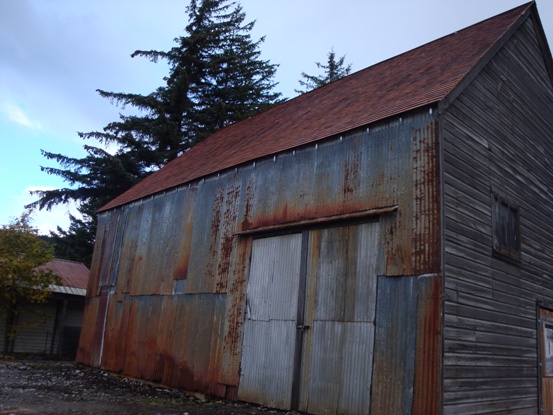 NPS Photo: YMCA Building with new roof installed
The maintenance team at Klondike Gold Rush NHP recently added the finishing touches to a new roof on the historic YMCA building, just in time for winter. It may come as a surprise to some that Skagway had a YMCA .  Better known are the Mascot Saloon, or Jeff. Smith's Parlor- both remnants of Skagway's wild and lawless days of 1898.  
The YMCA building was added to the National Park Service with the Rapuzzi Collection in 2008. The associated stories reflect a time in Skagway when the stampede to the gold fields was slowing down. People enjoyed the gym, baths, handball court, photographic darkroom and reading room found within this wood gymnasium. Newspaper accounts indicate there were over 1,000 members in 1899 under the leadership of William Reid.  
The gymnasium hosted banquets, parties and other local social events designed to improve the mental and physical health of both men and women. When twenty new members joined from L Company, under Captain Henry Hovey, a controversy was sparked. The 24th Infantry was an African-American regiment in the segregated U.S. Army of that time. Some members of the YMCA began withdrawing from the organization, objecting to the new black enrollees. Some women YMCA members were quoted in the Daily Alaskan, expressing that it was not "proper" for colored men to play basketball with white men. Secretary Reid of the association responded to the situation, staunchly defending the YMCA's policy of non-discrimination, "The Young Men's Christian Association knows no color line… As for Skagway, there can be no exception, we shall treat all alike." The YMCA survived this debate and in April 1901, the Board of Directors decided to build a visitor's gallery and make other improvements. Shortly after these additions, Skagway's population began to drop.  The YMCA suffered a similar drop in membership and was closed by November of that year.    
Herman Meyer bought the building in 1902 and remodeled it as a meat locker. A string of businesses operated here until George Rapuzzi began using it for a warehouse. Today, the YMCA represents a warehouse of stories. These stories present new opportunities to explore gold rush themes enriched with historic photographs, newspaper accounts and best of all, the original building for inspiration.    
Stayed tuned for more updates from our preservation crews!
Post A Comment
Did You Know?

At the height of the Klondike Gold Rush, 150 businesses were established in Dyea, Alaska including 48 Hotels and 2 Hospitals. By 1903, Dyea's population was a mere 3. A visit to Dyea today reveals a thriving forest growing over the ghosts of those buildings. More...