Creative Conservation: Top 5 of 2013
Creative Conservation: Top 5 of 2013
As my 2013 internship term here at Klondike Gold Rush National Historical Park comes to an end, I can't help but to reflect upon all of the interesting projects I've worked on and all of the great people with whom I've had the pleasure to work alongside. Many of the treatments completed on the artifacts within the museum collection required the application of specialized knowledge in specific subject areas in order for treatments to be successfully completed. I have learned a great deal this summer working with the Maintenance division. They have introduced me to new materials, tools, and technologies, and have exposed me to different approaches in problem solving in my profession; a term we have collectively coined as "creative conservation."
For my final blog this summer, I'd like to acknowledge the talented and dedicated personnel of the KLGO Maintenance division for their ongoing support in helping the Curatorial staff to preserve the cultural heritage of Skagway, AK. I've organized some conservation project highlights in the following David Letterman-esque format.
Drum roll please….
5.  Project Deep Freeze
When evidence of case-making clothes moths (a destructive museum pest) was discovered on a few of the taxidermy specimens within the collection, curator Samantha Richert and I knew immediately what needed to happen: really low temperatures, and fast! Prompt action is necessary in order to prevent the pests from potentially migrating onto other items within the collection. Freezing the specimens, or a controlled low-temperature treatment, to kill the insects and their larvae was the only option available in the collection facility. There was just one problem. The museum's chest freezer was ever so slightly shorter than the height of one of the mounts. Scott Logan and Cory Thole took one look at the freezer and thirty minutes later came back with a perfectly modified lid that accommodated for the height of the taxidermy mount. Additionally, Cory helped to organize an off-sight location where we could freeze the other larger specimens - but not before he personally helped me to stabilize the wooden base of a wolf mount with customized winched straps that he and other Maintenance crew use to secure helicopter loads.
4. Re-mounting the Wolf Mount
Si Dennis contributed his woodworking knowledge and expertise to fabricate a customized mount to help stabilize a wolf taxidermy mount, which otherwise would have been unexhibitable. Si carefully removed boards that were attached to the original plank. These extra boards were causing stress to the plank as well as causing the overall structure to sway back and forth. Once the boards were removed, he mounted the new support board to the original plank and added a series of lateral supports to accommodate for the specific design of the taxidermy mount.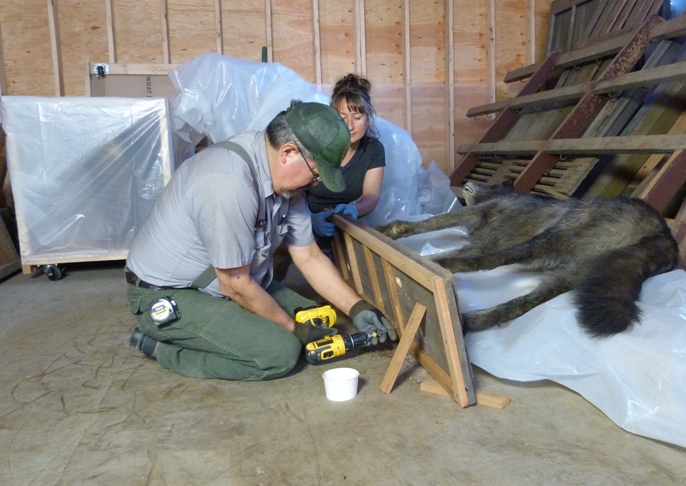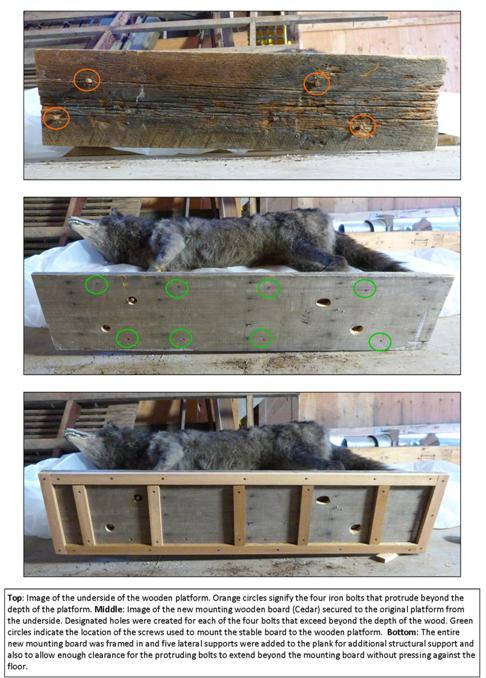 3.  Illuminating Moose Eyes
By far one of the strangest objects I've ever treated, a deformed moose skull with light bulb eyes, is another one of Martin Itjen's bizarre mixed media concoctions. The object was originally termed, "moose with barnacles," however, this was an incorrect classification. After some research and help from the University of Alaska Fairbanks Biology and Wildlife department, it was revealed that the deformities along the animal's antlers were a result from a malfunctioning endocrine system. The bull was unable to shed his antlers on a yearly basis, resulting in continuous growth on the same set of antlers for the duration of the animal's life. But this oddity was apparently not enough to earn its place within the diorama, for Martin Itjen was compelled to rig the skull to have illuminating light bulb eyes that are said to have once emitted an eerie red glow. To recreate this effect, Scott Logan fabricated a custom LED wiring system to be installed next to the preexisting light bulb fixtures to restore those glowing (and creepy) illuminated eyes.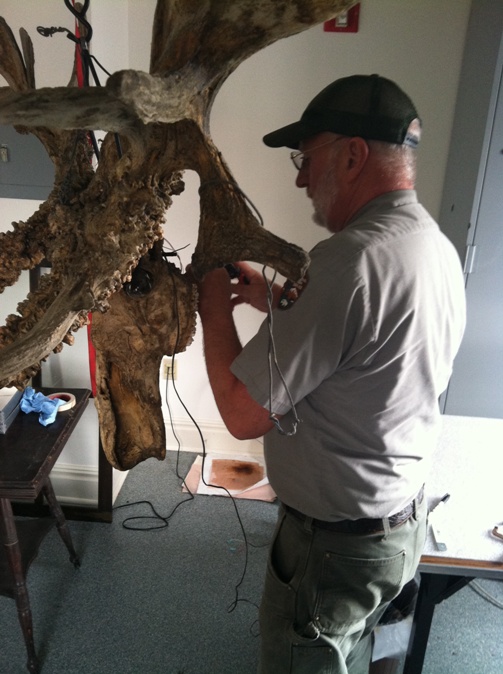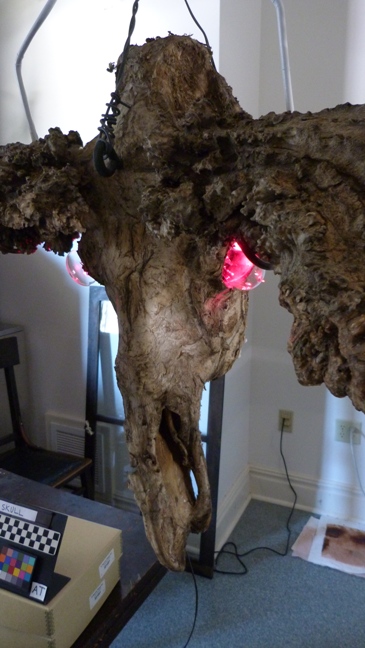 2. Back Country Boiler
The Canyon City Boiler is located around mile 8 along the Chilkoot Trail. The large steam boiler once powered a tramway system that transported stampeders' supplies up the mountain pass. During field work I completed last summer with KLGO's team of archaeologists, it was noted that the boiler is slowly slumping to one side. The cause of this is a combination of deteriorating organic matter placed under the boiler as well as active corrosion on a connector pipe that is "propping" the entire structure in an upright position. If no action is taken, eventually the structure will roll over and fall on its side. Aric Baldwin and the KLGO Trail Crew division proposed a safe alternative to provide structural support for the irreplaceable artifact along the historic trail. By elevating the structure one section at a time with hydraulic jacks and placing wooden spacers to prop the boiler up, the team was able to temporarily remove each support, excavate decaying organics and fill the space with crushed rock. Once the earth had been stabilized, the iron supports were placed back under the structure in a more supportive orientation.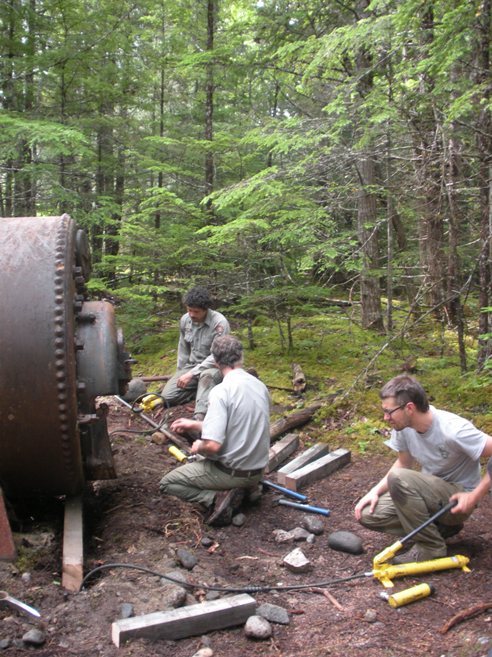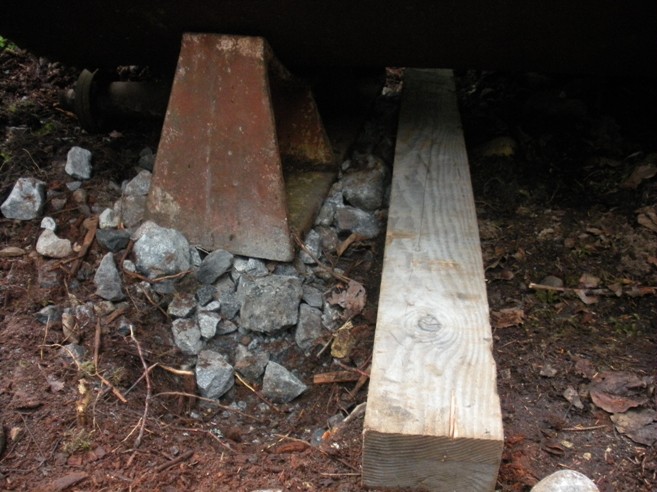 1.  Team Street Car
Moving Martin Itjen's custom-fabricated antique streetcar across town this past May was an extraordinary feat requiring help from both the Curatorial and Maintenance divisions. It was necessary to move the vehicle to its new temperature and humidity controlled storage location in order to better preserve the artifact. Extreme fluctuations in temperature and humidity can be exceptionally hard on objects made from different materials, causing them to swell and contract and to split and bloat depending on varying environmental conditions. The street car was slowly (2 mph) towed by one of KLGO's electric vehicles down the streets of Skagway while it was closely monitored for any warning signs of breakage or instability. Luckily, the street car made it safely to its new location, where it will be stored until it receives full conservation treatment.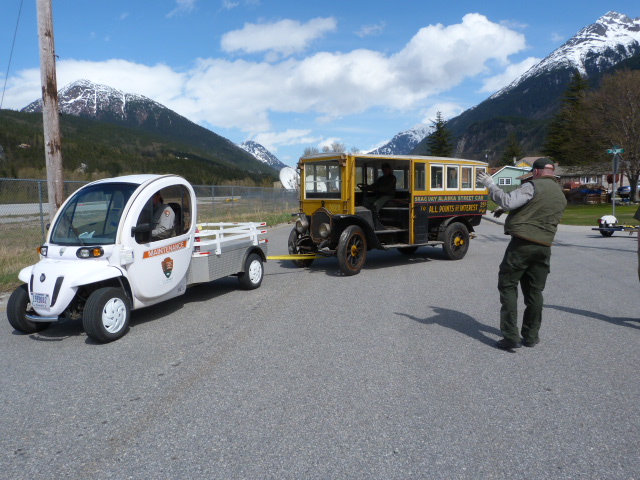 Thanks for all of your help KLGO Maintenance crew, it's been a fantastic summer working with everybody- you all will be missed!
Post A Comment
Did You Know?
Klondike Gold Rush National Historical Park, spanning diverse ecosystems from coastal to subarctic, is home to over 766 species of lichen. Not only is this the most reported in the National Park system, but it includes four species that are new to science.