Annual High School Local History Smackdown Resources and List of Topics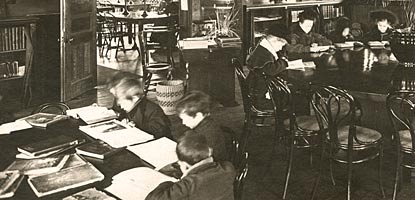 Keweenaw NHP Archives, Jack Foster Collection.
Suggested Resources
Questions will be drawn from a variety of sources: books, videotapes, pamphlets, articles, brochures, publications and reputable websites of county historical societies and research institutions. Some good resources for local history include the following:

Books
Community in Conflict: A Working-Class History of the 1913-14 Michigan Copper Strike and the Italian Hall Tragedy (Gary Kaunonen and Aaron Goings, 2013)
Annie Clemenc & Great Keweenaw Copper Strike, (Lyndon Comstock, 2013)
L'Anse Skanee Centennial Book (Baraga County Historical Soc., 1971)
French Canadians in Michigan, (John P. DuLong, 2001)
New Perspectives on Michigan's Copper Country, (Quincy Mine Hoist Association, edited by A. K. Hoagland, E. C. Nordberg, T. S. Reynolds, 2007)
Mine Towns, (Alison K. Hoagland, 2010)
Hollowed Ground, (Larry Lankton, 2010)
Cornish in Michigan, (Russell M. Magnaghi, 2007)
Keweenaw Character (David "Mac" Frimodig, 1990)
This Land, the Ontonagon (Bruce Johanson, 1985)
Beyond the Boundaries (Larry Lankton, 1997)
Cradle to Grave (Larry Lankton, 1991)
Baragaland Bicentennial 1776-1976 (Lumberjack Citizens Society of Baraga, 1976)
Wonderful Power (Susan Martin, 1999)
Some Copper Country Names and Places (Clarence Monette, 1975)
Strangers and Sojourners (Arthur Thurner, 1994)
The Diary of Bishop Frederic Baraga (Walling and Rupp, eds., 1990)
Old Reliable (Larry Lankton, 1991)
Minong: The Good Place - Ojibwe and Isle Royale (Timothy Cochrane, 2009)
Michigan's Copper Country (Ellis W. Courter, 2005) Available online.
Fort Wilkins: Yesterday and Today (Tom Friggens, Michigan History Magazine, 2000)
Deep Woods Frontier: A History of Logging in Northern Michigan (Theodore J.Karamanski, 1989)
Finns in Michigan (Gary Kaunonen, 2009)
Porcupine Mountains Companion: Inside Michigan's Largest State Park (Rafferty and Sprague, 2001)
This Ontonagon Country: The Story of an American Frontier (James K. Jamison, 1965 Republished by Roy W. Drier)
Reports
Electric Park: A Brief History of the Houghton County Traction (Andrew Stephens, 2005) Available online
Websites
Baraga County Historical Museum
Eagle Harbor USCG Boathouse - PDF
French-Canadian Genealogical Research

Historic Houghton Virtual Tour

Houghton County Historical Museum

Houghton County Road Commission

Keweenaw County Historical Society

Keweenaw Michigan Geologic Field Trip
Life Saving Service, Stanton Township
MTU Archives & Copper Country Historical Collections

Ontonagon County Historical Society

Shipwrecks of the Keweenaw Peninsula
Terry Pepper

Teams are not expected to memorize all the information in the preceding publications or websites, but familiarity with their contents will make a team more successful. Teams will receive questions randomly, so focusing on only one aspect of a region's history (mining, for example) is not advised. Teams should try to gain a broad knowledge of the four-county area encompassing Houghton, Keweenaw, Baraga and Ontonagon counties. Coaches should assist teams in finding good sources for local history research. If time permits, a trip to local historical societies or archives might be helpful. Field trips of the local area would also provide examples of historical artifacts and architecture still visible today.

List of Topics
The following is a list of some of the topics that competition questions may cover:
• Art, Theater & Culture
• Brewing & Bottling
• Business Districts
• Child Labor
• Commercial & Industrial Architecture
• Commercial Agriculture
• Commercial Fishing
• Commercial Mining, Milling & Smelting
• Commercial Timbering
• Company Towns & Corporate Paternalism
• Construction
• Crime, Prisons & Jails
• Customs, Lifeways & Taboos
• Death & Cemeteries
• Economics & Business History
• Education: Public, Parochial & Higher Learning
• Environmental Issues: Waste Rock, Tailings, Slag, Water Quality, Development, Endangered Species, Biodiversity
• Ethnicity, Immigration & Naturalization
• Family Life
• Foods (Regional, Ethnic)
• Fires & Disasters
• Fish & Wildlife
• Fraternal & Benevolent Associations, Clubs & Organizations
• Geography
• Geology
• Hospitals & Medicine
• Infrastructure: Water Works, Dams, Sewage, Power, Roads, Natural Gas, Street Lights, Phone Systems
• Labor Unions & Strikes
• Language & Dialect
• Life-Saving Stations
• Museums & Monuments
• National & State Parks
• Native American Mining
• Natural Resources: plant and animal life, water, minerals
• Parks & Playgrounds
• Place Names
• Politics
• Post Offices
• Prisoner of War (P.O.W.) Camps
• Public Events
• Public Works: Civilian Conservation Corps (CCC) & Works Projects Administration (WPA)
• Railroads (Commercial & Company)
• Recreation & Leisure Activities
• Religious Traditions, Holidays & Places of Worship
• Residential Architecture
• Retail Businesses
• Shipping
• Sports & Athletics
• State & Local Government
• Weather & Climate