NPS Photo, Dan Johnson.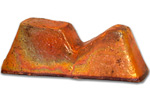 Keweenaw NHP Collection
Built by the Quincy Mining Company, the smelter used heat and chemical processes to turn copper ore into ingots. The ingots were then sold and shipped to factories where they were turned into products such as copper wire or tubing. The Quincy Smelter is the only copper smelter remaining in the Lake Superior Region.
This site is not open to the public at this time. The Quincy Smelter site is owned by Franklin Township and is undergoing treatment to remove hazardous materials. Future considerations for the site include stabilizing the structures and possibly adapting some parts into a visitor center facility for Keweenaw National Historical Park.