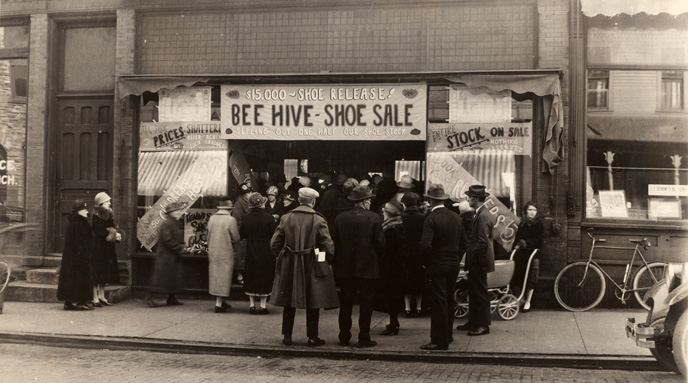 NPS Photo, KNHP Archives, Curto Collection, Album 4, #041, Bee Hive Shoe Sale
Copper has shaped the people and places on the Keweenaw Peninsula for thousands of years. Early native peoples began mining and using copper here over 7,000 years ago. After Europeans arrived in the area, they learned of the copper resources from the Ojibwa people. English attempts at mining began in the 1700s but at first were unsuccessful. By the 1840s however, the setting was finally ripe for "copper fever" to take hold, creating one of the first mineral mining rushes in the United States.

Though many mining ventures quickly played out, some were successful at creating an enduring industry in the remote Keweenaw Peninsula. For over 100 years, the copper mining industry played a role in shaping the lives and landscapes of people and communities. Here you can explore their stories.
This section of the park's web site will continue to grow as new pages are added featuring the people, places and stories of Keweenaw National Historical Park. Check back often for updates.