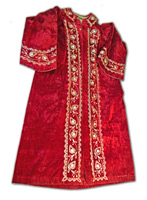 Keweenaw NHP Collection
For nearly eighty years, the Union Building served as a meeting place for over twenty of Calumet's fraternal groups and benevolent societies. Many of these organizations possessed elaborate and secretive rituals that forged strong connections between members and provided them with a level of security and acceptance in the local community. These groups, whose membership was often based on national identity and/or religious affiliation, provide a chronicle of Calumet's past ethnic and religious makeup.
By donating land to certain groups, C&H attempted to shape the local community to foster its need for a stable, productive and loyal workforce. As a link between the community and company, the Union Building and the people who passed through its doors reveal stories of a copper mining town. This building, like others downtown, provides a window into Calumet's past.