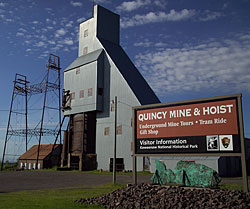 NPS Photo, Dan Johnson.
When Keweenaw National Historical park was established in 1992, the park's enabling legislation mandated that the park would work with a wide variety of agencies, organizations and individuals to protect and interpret the natural and cultural resources relating to the copper mining story on the Keweenaw Peninsula. The park works with these partners on both a formal and informal basis. Our formal partners include the
Keweenaw National Historical Park Advisory Commission
, the
Keweenaw Heritage Sites
and the Isle Royale and Keweenaw Parks Association.