Increased Traffic Expected June 26, 2014 through June 29, 2014

Local residents and commuters should expect increased traffic around Kennesaw Mountain National Battlefield Park in relation to the 150th Anniversary programming in the park. More »
Parking Lot Closures June 26, 2014 through June 29, 2014

Several parking lots including the Visitor Center, the Mountain Top, and the Cheatham Hill parking lots will be closed to visitors June 26, 2014 through June 29, 2014. More »
Road Closures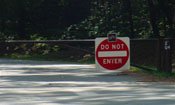 NPS Photo
The majority of the roads running through the Battlefield are county roads and do not close.
In designated areas, closing times are are posted for your convenience. Closing times change at the beginning and end of daylight savings time. Gated lots have posted times of closure for you to refer to and non gated areas are posted "closed from dusk to dawn".
The mountain road is open Monday through Friday excluding major holidays and weather permitting. It is closed on weekends and holidays but a shuttle bus is available for a mininal fee to take a ride to the top of the mountain.


Did You Know?

Confederate armies were usually named for states or regions where they campaigned, while union armies were named after major rivers. Thus the Confederate Army of Tennessee opposed to the Union Army of the Tennessee.