Lane Closures on Old Highway 41 (Barrett Parkway Project Construction)

Barrett Parkway Project will require lane closures on Old 41 Highway, east of Ernest Barrett Parkway (the Kennesaw Mountain side). Lane closures will occur February 9 - June 18, 2013, with peak traffic hours (6-9 am and 4-7 pm, weekdays) not affected.
Contact Information Regarding Lane Closures

Area traffic is encouraged to use other routes to avoid major delays. Contact Cobb County Department of Transportation for more information at 528-1653 or visit http://dot.cobbcountyga.gov/project-updates.htm More »
Road Closures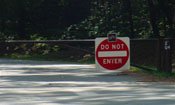 NPS Photo
The majority of the roads running through the Battlefield are county roads and do not close.
In designated areas, closing times are are posted for your convenience. Closing times change at the beginning and end of daylight savings time. Gated lots have posted times of closure for you to refer to and non gated areas are posted "closed from dusk to dawn".
The mountain road is open Monday through Friday excluding major holidays and weather permitting. It is closed on weekends and holidays but a shuttle bus is available for a mininal fee to take a ride to the top of the mountain.


Did You Know?

Nearly twenty buildings, including dwellings, churches and mills existed within the present battlefield boundary in 1864.  Only the Kolb house, which has been rehabilitated to represent its historic exterior appearance, survives.