Contact Information Regarding Lane Closures

Area traffic is encouraged to use other routes to avoid major delays. Contact Cobb County Department of Transportation for more information at 528-1653 or visit http://dot.cobbcountyga.gov/project-updates.htm More »
Schedule Of Events
Search for Events
Sorry, but there are no events between 11/18/2013 and 12/01/2013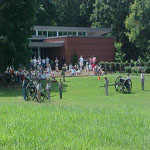 NPS Photo
Please help us make America's Best Idea even better. Join us for a national day of service and celebration in your 391 national parks.
Check the schedule above or come by and pick up a copy so you will always know what is going on here at Kennesaw Mountain NBP.
Schedules are updated as information becomes available.


Did You Know?

Confederate armies were usually named for states or regions where they campaigned, while union armies were named after major rivers. Thus the Confederate Army of Tennessee opposed to the Union Army of the Tennessee.