Parking Lots and Mountain Road Closing Early

On April 15, 16, and 17, 2014, the Visitor Center parking lot is closing at 5:30 and the mountain road is closing at 4 pm. Visitors are encouraged to use the overflow parking lot and the mountain trail to access the top of the mountain.
Schedule Of Events
Search for Events
Events Upcoming for April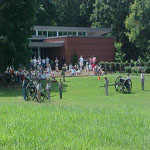 NPS Photo
Help us make America's Best Idea even better by visiting one of your 401 national parks. To see what events are taking place here at Kennesaw Mountain, please select the month of your intended visit to peruse that month's events.
If you are looking for information on the Battlefield's upcoming 150th anniversary events, please click here.
To view the Kennesaw Mountain Trail Club's 150th anniversary partner page, pleae click here.


Did You Know?

The elevation of Kennesaw Mountain is 1808 feet above sea level. While hiking up to the top, an elevation of 708 feet is gained in the short 1.2 miles.