Schedule Of Events
Search for Events
Events Upcoming for September
Showing 4 results

 RSS Feed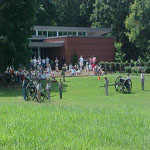 NPS Photo
Help us make America's Best Idea even better by visiting one of your 401 national parks. To see what events are taking place here at Kennesaw Mountain, please select the month of your intended visit to peruse that month's events.
If you are looking for information on the Battlefield's upcoming 150th anniversary events, please click here.
To view the Kennesaw Mountain Trail Club's 150th anniversary partner page, pleae click here.


Did You Know?

Nearly twenty buildings, including dwellings, churches and mills existed within the present battlefield boundary in 1864. Only the Kolb house, which has been rehabilitated to represent its historic exterior appearance, survives.