Increased Traffic Expected June 26, 2014 through June 29, 2014

Local residents and commuters should expect increased traffic around Kennesaw Mountain National Battlefield Park in relation to the 150th Anniversary programming in the park. More »
Parking Lot Closures June 26, 2014 through June 29, 2014

Several parking lots including the Visitor Center, the Mountain Top, and the Cheatham Hill parking lots will be closed to visitors June 26, 2014 through June 29, 2014. More »
Schedule Of Events
Search for Events
Events Upcoming for July
Showing 2 results

 RSS Feed
Saturday, July 5, 2014

As the Union Army arrived in July 1864, an effort was made to protect the mills of Georgia from capture but it failed. This lecture discusses why mill workers were arrested and what they were producing to raise the ire of General William Sherman. More

Time:

2:00 PM to 3:00 PM

Location:

Kennesaw Mountain Visitor Center

Fees:

Free

Saturday, July 12, 2014

The Kennesaw Mountain Trail Club is a group that maintains the 20-plus miles of park trails. All trail work is done in a manner that is environmentally friendly and consistent with the historic mission of the Battlefield. More

Time:

8:30 AM to 1:00 PM

Location:

Kennesaw Mountain National Battlefield Park

Fees:

No Fee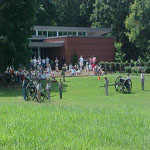 NPS Photo
Help us make America's Best Idea even better by visiting one of your 401 national parks. To see what events are taking place here at Kennesaw Mountain, please select the month of your intended visit to peruse that month's events.
If you are looking for information on the Battlefield's upcoming 150th anniversary events, please click here.
To view the Kennesaw Mountain Trail Club's 150th anniversary partner page, pleae click here.


Did You Know?

Confederate armies were usually named for states or regions where they campaigned, while union armies were named after major rivers. Thus the Confederate Army of Tennessee opposed to the Union Army of the Tennessee.