Schedule Of Events
Search for Events
Sorry, but there are no events between 10/24/2014 and 11/01/2014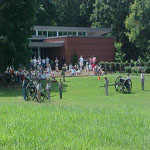 NPS Photo
Help us make America's Best Idea even better by visiting one of your 401 national parks. To see what events are taking place here at Kennesaw Mountain, please select the month of your intended visit to peruse that month's events.
If you are looking for information on the Battlefield's upcoming 150th anniversary events, please click here.
To view the Kennesaw Mountain Trail Club's 150th anniversary partner page, pleae click here.


Did You Know?

Did you know that a temporary truce was called at Cheatham Hill [aka The Dead Angle] by Col. William H. Martin of the 1st Arkansas Regiment so that the dead and injured could be removed. The battle resumed once the bodies were removed.