Parking Lots and Mountain Road Closing Early

On April 15, 16, and 17, 2014, the Visitor Center parking lot is closing at 5:30 and the mountain road is closing at 4 pm. Visitors are encouraged to use the overflow parking lot and the mountain trail to access the top of the mountain.
Event Details
09/22/2013

Location: Earl Smith Strand Theatre Time: 6:30 PM to 9:30 PM Fee Information: $8.00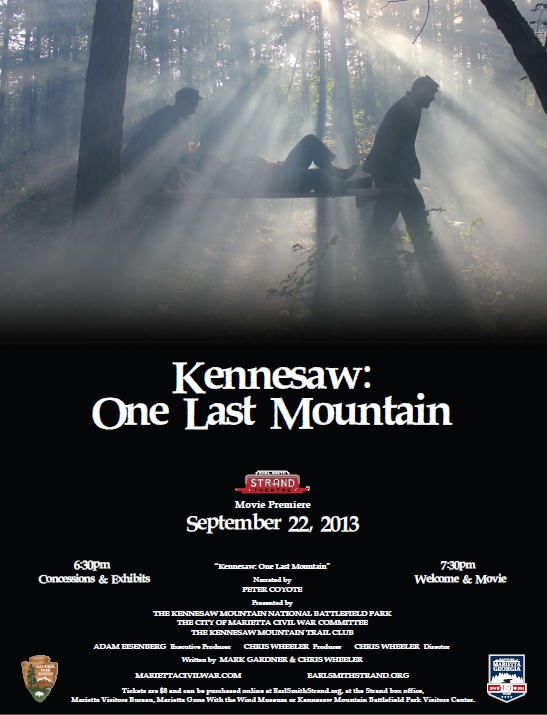 On Sunday, September 22, 2014, Kennesaw Mountain National Battlefield Park will premiere its new film, "Kennesaw: One Last Mountain," at Marietta's Earl Smith Strand Theatre. Doors open at 6:30 pm with refreshments available for purchase, an artifacts exhibit, and live music on the fourth floor presented by Symphony on the Square. A speakers' panel begins at 7:30, with the film debuting at 8:00 pm. The film and premiere is presented by the National Park Service and the Civil War 150th Committee for the City of Marietta.
"Kennesaw: One Last Mountain," narrated by actor Peter Coyote, is the Battlefield's first new film production since 1997 and replaces the site's current movie. Tickets are $8 and available through the the Gone With the Wind Museum, Kennesaw Mountain National Battlefield Park's Eastern National bookstore, or the Strand box office. 
For ticket information, please contact the Strand box office at 770-293-0080 or online at www.earlsmithstrand.org.