Parking Lots and Mountain Road Closing Early

On April 15, 16, and 17, 2014, the Visitor Center parking lot is closing at 5:30 and the mountain road is closing at 4 pm. Visitors are encouraged to use the overflow parking lot and the mountain trail to access the top of the mountain.
Brochures
Welcome to Kennesaw Mountain National Battlefield Park. Before you visit, get a jumpstart on how to get around the park and the places most important to you during your stay.These are printable color copies of the official park brochure. If you need directions, please refer to the "Directions" page. You may download a detailed trail map from our "Maps and Trails" page, which may come in handy as you enjoy your journey on some of our 18 miles of interpretive walking trails.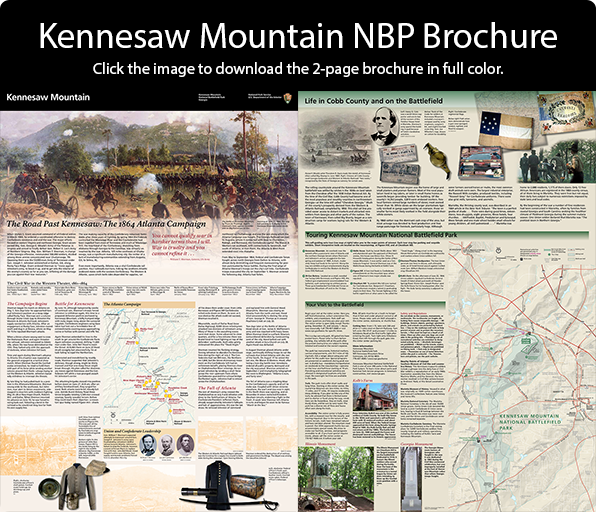 If the image link is not working, you can download the brochure here: Kennesaw Mountain NBP Brochure
Document Specifications: front & back, 2-pages, full color, 6.86MB file size
Kennesaw Mountain NBP Brochure (FRONT page) - 3.39MB File Size
Kennesaw Mountain NBP Brochure (BACK page) - 3.71MB File Size
*Adobe Reader is required. If you do not have the free software, please download and install it on your computer. Due to the slow transfer rates on our website, the files can take several minutes to download, especially on a slow connection. For a better method of download, right click on the brochure icon or text links and select "Save Target As..." to choose a location to download the brochure files.
Did You Know?

Nearly twenty buildings, including dwellings, churches and mills existed within the present battlefield boundary in 1864. Only the Kolb house, which has been rehabilitated to represent its historic exterior appearance, survives.